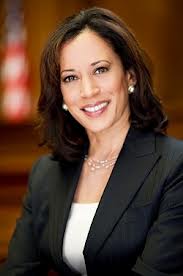 Kamala Harris is a gorgeous, intelligent, and attractive black woman. The California Attorney General has been a long time supporter of President Obama's and, during a fundraiser on Thursday night, the Pres made a few comments that some thought were distracting and inappropriate.
According to the LA Times, he said the following of Harris.
"You have to be careful to, first of all, say she is brilliant and she is dedicated and she is tough, and she is exactly what you'd want in anybody who is administering the law, and making sure that everybody is getting a fair shake…She also happens to be by far the best-looking attorney general in the country — Kamala Harris is here…It's true.  Come on…And she is a great friend and has just been a great supporter for many, many years."
The President's supporters have noted that the Pres has been known to call both men and women "good-looking." And, he has a habit of informality in his oratory. Many admire him for his ability to bring levity in such a contentious field of combatants. But, others claimed that the comments were insensitive and sexist.
Nonetheless, on Friday, the President reportedly called Harris directly to apologize for the "distraction" his words may have caused. And, while those efforts seem to have quelled the concerns of blatant sexism and brutishness toward women, the apology likely will do little to lessen the sensitivity powerful women have in the political spotlight. Being a dual minority, Harris has likely faced repetitive obstacles on her path to attorney general. And, dealing with negative tropes about "strong" black women has probably influenced her political career thus far. But, does that mean the President owed her apology?
In many ways, it seems that folks are often looking for something negative to say about virtually everyone. From Michelle Obama's minced words this week about being a "busy single mother" to the President's obvious compliment of a long time friend, it seems the media is willing to jump at literally anything that paints the First Family in a negative light. And, for what reason? I get that they are the First Family. And, in many ways, they seem pretty perfect. But, at what point do they get to be normal human beings? Maybe I am idealistic and completely disconnected from reality, but I would hope that President Obama could call a beautiful woman beautiful without being sent to a proverbial firing squad.
What do you all think? Was an apology necessary? Or was it just a bunch of media hype that the President had to acquiesce to once again?