When Maxi Me reached her 13th birthday, I was mostly happy for her, what with all that relishing in her rite of passage into an insufferable, hormone-plagued, self-conscious pain-in-the-butt (thank God she wasn't and we've all managed to survive to see her make it to 14.5). But there was one thing I was truly worried for–the acne that was sure to come to wreak havoc on her silky brown cherubic face. I still have flashbacks about my own bouts with acne. The blackheads. The white heads that would make volcanic explosions on the medicine cabinet mirror. The scars. The Clearasil.
Most (normal) parent want better for their kids, and I swore to myself upon her 13th year that I would protect her from the pizza-faced demon, even if it meant I would have to take the quixotic journey through the Macy's or Nordstrom's labyrinthine cosmetics counter.
Turns out I didn't have to. The folks at BeyondClear hit me up a few weeks ago about a their new line of acne-fighting products just in time for Maxi Me's latest post-menstrual full facial acne attack.
Here's the line-up: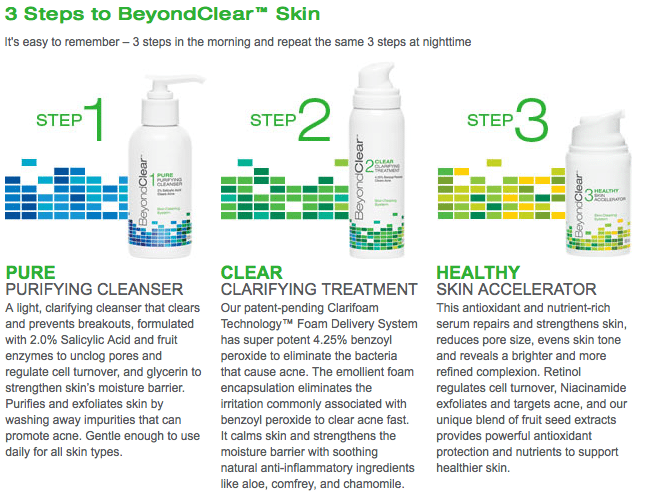 I let Maxi Me take charge of managing this review, since I've finally exorcised the pizza-faced demon. She used these items for approximately three weeks. She likes it overall, and here's the results.
Pros: This stuff works–and quickly. During the worst of her breakout, she used this: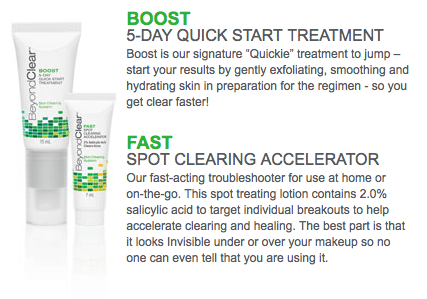 Cons: While the products were effective, Maxi Me felt like the Spot Clearing Accelerator was a bit irritating. She told me it burned, but that's probably because of the salicylic acid, which is an effective acne fighter. It didn't leave any redness or signs of burning on her skin, so the sensation was temporary. Her favorite product is the cleanser "It's tacky and thick and feels like it works," she says. Her least favorite is the Clarifying Treatment, which claims to foam, but apparently not to her satisfaction. (I just pumped it; it foams. I think Maxi Me is just being a teenager).
As the outside observer of The Teenager's skin care regimen, I can totally see the difference in her skin, and at $29.95, this stuff get's Mom's stamp of approval.