So…The Bachelorette had a pretty dramatic ending, with Peter "petering out" and Bryan emerging as the champion. I have to say, Peter was a complete let down. He's every guy who tells a girl she's amazing, that it's him not her, but he has her to thank for marrying the next woman who come along six months later. He's a flimflamy, wishy-washy, time waster and Rachel's only choice to preserve her self-respect was letting him go.
While Peter was being brought kicking and screaming to the marriage discussion, Bryan was enthusiastic about his love and devotion to Rachel, and upon asking for her hand in marriage, he acted like the happiest man in the world. Where Peter left her doubtful and insecure, Bryan was resolute. I must admit I wasn't into Bryan at first because I thought he was kind of cheesy and came on too strong. But the proposal and his excitement and love for her won me over and honestly brought me close to tears. This is how a man should want you ladies. Giddy, grateful and proud of the idea of you being his wife and mother of his children. Feeling like the luckiest man in the world.
One thing that really struck me at the proposal/wedding event was Rachel saying that this was a "mature" love. She, like many women (especially black women) come primed for complications and drama, and when someone comes along, uncomplicated and steady, we think they're too boring.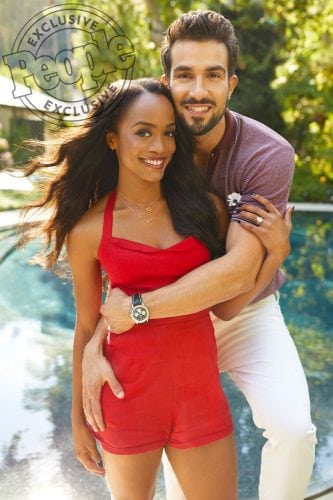 It's the mature, uncomplicated love that lasts, ladies. Always remember that.
Oh! And make sure to buy a copy of People magazine today…they're on the cover! Aside from whether or not this works out in the long run, this series was nonetheless historic. Save it for your girls.
Follow Christelyn on Instagram and Twitter, and subscribe to our You Tube channel. And if you want to be a little more about this online dating thing, InterracialDatingCentral is the official dating site for this blog.