Last week I observed this entire east coast freeze into an ice cube. People were bemoaning the weather, calling in to miss work, and staying inside in their jammies and fuzzy bunny slippers. Being in the frigid cold and unwilling to crawl out of bed does have it's romantic upside, and you only need an internet connection to realize it.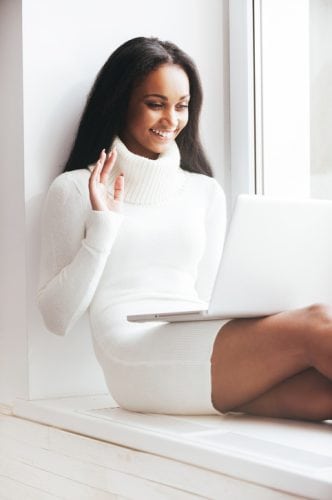 Think about it–millions of people are all in the same position. It's too damn cold, so everyone is inside…and online. If they're not watching Walking Dead season eleventy, they're surfing the internet in the same way they wish they could ride a wave in Hawaii. And all of a sudden, those online dating sites that may have seemed like a ghost town are suddenly teeming with people looking to reach out to other people during these long, lonely, cold days.
In fact, dating coaches and online dating sites even have a name for it. "Cuffing Season." The time when the weather precludes all sane people from taking a jog and walking the dog and leaves you to find your stimulation (and reason to live) online. Now, instead of 10 people matched to you in the area, they are now 30. Ah…the beauty of choices, amiright?
So if you've been holding off on meeting someone online, but the weather has you climbing up the walls, now would be a good time to go ahead and make the leap. This is especially true if you're new to interracial dating and you haven't had much luck meeting people in person.
Bonus tip: While the weather may keep you from meeting in person ASAP, don't dismiss a chance to spruce yourself up for a Skype date. With all the new people to choose from, it's better to connect in this manner sooner than later so you can confirm the person is real and that there's enough attraction to move forward. Even Facebook now allows for voice and video, so be VERY suspicious if someone hesitates to use that option to get to know you.
So what are you waiting for? Thaw your hands and get your swirl on!
Follow Christelyn on Instagram and Twitter, and subscribe to our YouTube channel. And if you want to be a little more about this online dating thing, InterracialDatingCentral is the official dating site for this blog.