I was delighted to interview Samantha and on her relationship with Freddie. Their relationship will be the first "blatino" couple we feature. I hope you enjoy this series.
What challenges have you faced?
We are from the San Francisco Bay Area in Northern California, where interracial relationships are very common especially in the younger generations. Our specific pairing is not common at all though. I have yet to see another black woman with a Latino man. I've seen more AMBW pairings. Rachel (the first black Bachelorette) and Bryan from the Bachelor franchise are the only couple I see like us. We have not really faced any issues though.
How do you deal with difficult times?
We deal with difficult times by being open and honest with each other. We know that we come from different cultures and there will be hurdles to work through. That is why it is so important to keep those lines of communication open, and be honest, so we stay on the same page.
What kind of boundaries protect your relationship?
It is important for us to remember that we are coming from different backgrounds and experiences. To better address that situation, we have come to an agreement: if one of us has any issues with the other's family, we will talk to each other, discuss the situation amongst ourselves and go to our respective families to talk about the issue. If he has a problem with my family, I would speak to my family members, and vice versa. That way, we can present a united front and address the situation from an objective standpoint, while still keeping our family and significant other's feelings in mind.
We have introduced our families to each other, and they are different from the languages they speak, experiences as an immigrant vs native-born and so on. So far this has gone really well, our families spent this past 4th of July together. Our moms have bonded, which is great. We both have tight knit families, and our parents want to support us.
It is really crucial to be particular about who I discuss my relationship with. I confide in my mom and therapist, but I share very little on social media.
How has your family reacted?
My mom and he are actually in the same profession and went to the same grad school. It was such an amazing coincidence. Before she knew what race he was, she was so excited to talk about that with him. She was fully on board from the start.
My other sister has dated interracially so she understood completely. My dad is just happy to have another man around. I'm lucky to have a family that supports my relationship.
How have your friends reacted?
My friends are really supportive. I have friends of all races and they are in interracial relationships themselves, some of them. They just want me to be happy.
Is this a new dynamic for you?
I've always been open to dating outside my race. No, this was not new for me.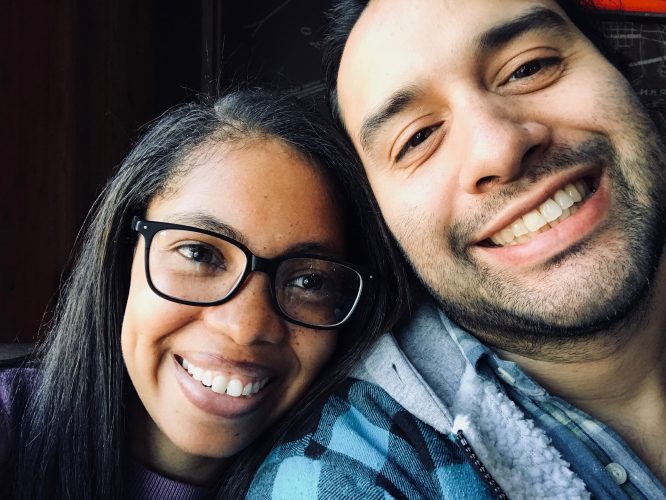 What are some of the expectations you had before your relationship?
Before graduating from college, I had life all planned out. I spent my 20s in law school and grad school. I thought I would have a career, marriage and children in my mid-20s, but I was burned out after graduating. My family really supported me through my recovery time. I got a chance to regroup. When I got back up and running, I found myself really interested in having a partner. Once I found myself in the right place, I ended up getting the relationship that I always wanted.
Looking back on some of those expectations, how have they changed now?
I'm a perfectionist, so I put pressure on myself. This time though, I decided to let life surprise me. I learned gained useful skills in law school, but the legal field was one of the most affected by the recession, and many of my former classmates are working outside the law now. Plus, the California bar exam is one of the hardest to pass in the country. I also have my MA in International Studies. Writing about history and politics are my passions, I'm currently writing a book about being a black millennial female in the Trump era.
I've always wanted a companion, something I could share it all with. Freddie wasn't what I was expecting, but I decided to open myself up in a new way. I let myself move out of my comfort zone while being clear about what I wanted and needed.
Thank you so much for reading this interview! We'll continue this feature in another segment. If any of you are interested in participating in this series, please leave a comment below or connect with Christelyn Karazin.