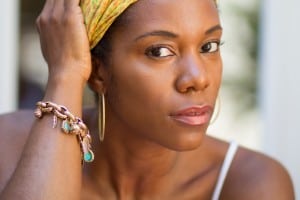 I had an unexpected meeting this morning and didn't have time to slather on a full makeup face. Lucky for me I was able to fake it with a mineral makeup bronze/coral look. If you're in a crunch–whether for a meeting, unexpected visitor, or going out on a quick errand–you'll look like you've spent a hour when it's only be minutes, and mineral makeup doubles as sun protection so you've got an added bonus.
The tools…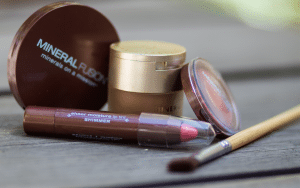 1.) Lightly cover. I'm wearing SENNA COSMETICS Mineral Mix Cover & Finish in "expresso"–Apply the loose powder with a large powder brush to remove shine and even out skin tone. I love this powder because it's so light it feels like I have NOTHING on. It's divided into two parts–pressed and loose–so you can decide how much coverage you want. This is ideal for spring and summer, too. No messy, wet and cakey feeling. And OMG…while I was doing this review I noticed that SENNA is having a MAJOR sale on some items that they are discontinuing and I ordered about $150 worth of stuff for $25. Here's the link to the sale here. Check out the choices of blush and tints, lipsticks and glosses all now being sold for $5!!! It's all professional quality too.
2.) Frame the face: This may seem like a little thing, but filling in your eyebrows is essential to a polished look. When I'm in a time crunch I like to use a fill in pencil I have from Anastasia Beverly Hills. They OWN the eyebrow market in Hollywood…really good quality. The pencil has a convenient brow brush on one end so you can easily groom while you fill in.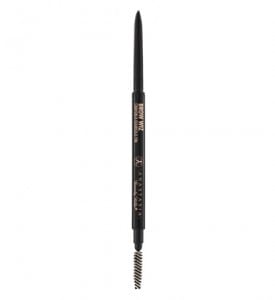 Then line the inner eye and plump your lashes with some mascara. My favorite mascaras are from Lancome, Sephora's brand, and Too Faced, but any liner and mascara will do.
3.) Apply some color and highlights: MINERAL FUSION Blonzer Duo is a bronzer and pale pink blush. I ran a blush brush across both shades and lightly dusted the tops of my cheekbones and used it more as a highlighter. 


4.) Shade the eyes: MINERAL FUSION blush in "harmony" –I'm improvising and using this stunning gold/coral color on my eyes and applied on the lower and middle lid with a blending brush.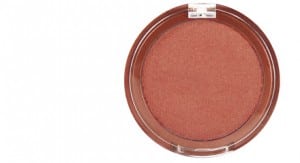 5.) Luscious Lips: Finally, I finish the look with Mineral Fusion's Sheer Moisture Lip Tint in "shimmer." This gives a light tint and lasts a pretty good amount of time, but won't last through eating and drinking. You'll have to reapply every couple of hours. (The lip pencil is pictured above, but appears to not yet be available on the site. If you love it, you can find Mineral Fusion at Whole Foods and Sprouts.)
What's great about this makeup look is that once my meeting was over I could go into my garden and do some work and not worry about sweat and makeup clogging my pores or having to apply sunscreen, because mineral makeup doubles as an SPF.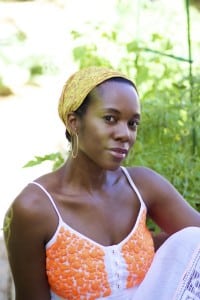 Special Offer
If you like any of the Mineral Fusion looks, BB&W readers get an additional 20% off with the coupon code, THRIVE20 on your online orders, and gives free shipping for orders $50 or more.