I don't know about you, but I'm totally disinterested in who gets what award for the Oscars tonight. I'm more into what everyone will be wearing.
"Each year I'm asked what the Red Carpet trends will be. I've definitely seen three distinct looks this season. A classic Hollywood glamour look with a defined cat eye and red lip, a smoky eye with a lighter lip, and a softer 'no makeup' look with an emphasis on skin and blush. All of these looks have a more modern take to them this season." – Gregory Arlt, Director of Makeup Artistry
Yesterday I was able to get the scoop on what we'll most likely see our favorite starlets wearing on their faces tonight, and what trends we'll see going into spring and summer. I got a chance to interview with lead make up artists, Lori Taylor of SMASHBOX and Cory Bishop of Gorgeous Cosmetics (a new line from Australia making their debut in the U.S.) and they broke it down…
The Power of the Pout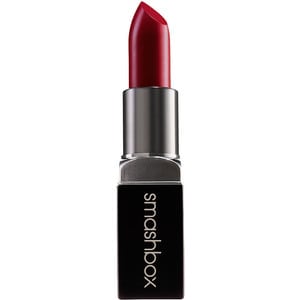 Makeup pros agree that lips take center stage this season. It's all about the color pop sans the shine. SMASHBOX does this beautifully with their INFRARED matte. It goes on smooth, with a no-shine finish, unlike some formulas that feel so dry it's like you're fighting with your lipstick wand to actually get some color. It's also very long-wearing and smudge resistant, and doesn't leave your lips feeling thirsty.
Get the look:
I achieved my Oscar lips by first covering the outer area of my lips with concealer. Artists do this to minimize discoloration and get a uniform pallet in which to line. The concealer I used is Eve Pearl Dual Salmon Concealer in dark/deep. I then did a liner slightly outside my natural line to get a larger, rounder lip using Urban Decay 24/7  Glide On Lip Pencil, 69. Are I got the rounded line, I filled in my entire lip with the pencil and then applied INFRARED all over. I blotted with a tissue, and then went over it again for maximum color, maximum matte finish.
Gorgeous Skin is Always In
Good skin starts from the inside…PERIOD. But even the smoothest, clearest skin can use a little help. Enter MAKE UP FOREVER HD High Definition Pressed Powder. I'm loving this stuff. It goes on silky smooth and eliminates the oil slick that is my T-zone. Great for photography and videos, so if you're getting married this spring you'd better get you some.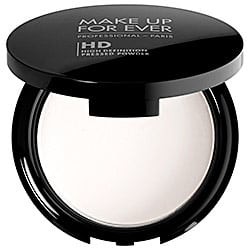 Take a look. What do you think?