I have been heavily advocating online dating for nearly a decade, and there's a good reason for that–it works. Yes; you may have to kiss a lot of frogs before you find your prince. But so what? The more frogs you meet, the greater chance of meeting Mr. Right. It's all about the numbers. As the brand ambassador for Interracial Dating Central, I highly recommend it, and the following success story happened on their platform. It's proof that black women in their 40's+ can and do find love across color lines more easily online. It's the reason that I created the course, Online Dating Decoded. If you haven't yet checked it out, maybe this will give you the nudge you need. 
Paul & Sunny's story…
The two of us were inexperienced in online dating. I'd begun watching Christelyn Karazin's, Beyond Black and White videos because although I was experienced in interracial dating, I was unclear as to where to find men in my age bracket. Paul wanted to expand his horizons and was looking for a serious relationship without cultural barriers. We both joined IDC at approximately the same time. Little did we know through trial and error, and disappointments on both sides, that we were about to find each other and start our journey together.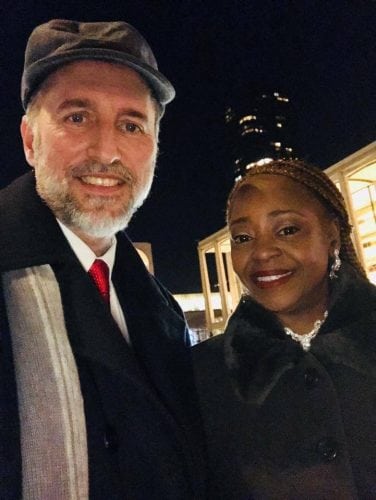 Paul
I sent Sunny a flirt and said to myself "That's a picture of a woman that I could come home to every evening. I don't know. It just felt like home."
Sunny
Paul sent a flirt and I actually hesitated in responding. After looking at his photo and reading his profile over several times, I found him to be quite handsome and interesting.
From that moment on, we have not gone one day without speaking to each other. It started with messages on the website to phone calls, to skyping, to visit one another.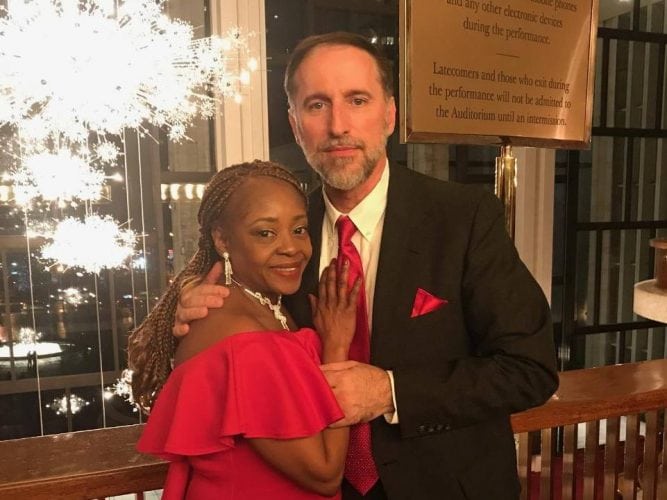 Paul being from the southwest rural corner of Michigan and I being from New York City offered some interesting challenges. It was definitely Country Mouse and City Mouse.
Paul
Meeting Sunny was exciting and she was everything that she said she was. She was definitely no joke. A woman of presence and beauty. After meeting Sunny in person and all the things that we talked about beforehand, it was as if we knew each other for a very long time. Coming to New York and being with Sunny seemed so right. Our wonderful dinners together, meeting her family for Sunday Brunch on the Long Island Bay, and my Nephew and his wife for brunch in Harlem was the first step in bringing our families together.
Sunny
I didn't take long before Paul came to New York to meet me and we had an 8-day long first date. The most memorable day was when he took me to dinner and the Metropolitan Opera to see The Merry Widow. We were dressed to the Nines, me in my red gown and he in his dapper suit. Every day was filled with things to do and every moment seemed to bring us closer together.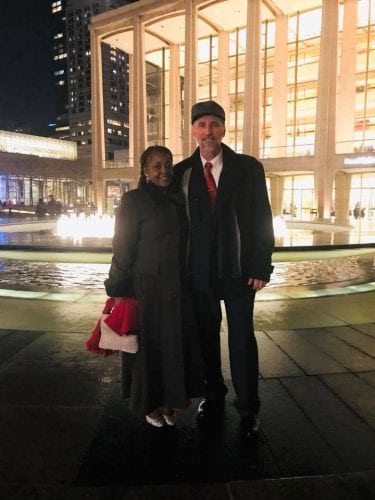 Paul invited me to visit him in Michigan and I accepted. What bowled me over was his family! They welcomed me with open arms and even prepared a dinner in my honor. This City Mouse found herself enjoying Country Mouse things such as operating an Excavator as well as, shopping and eating at Amish establishments.
Paul
As we deepened our relationship it was apparent where we were headed. After the ring was chosen, I contacted my Nephews wife in Harlem to connect me with a photographer friend of her's. After many conversations and messages, my plan began to take form. With a great deal of research, I had found the spot. I asked the photographer to meet me at Bow Bridge in Central Park at 2 pm, but I wanted candid shots of the two of us as we made our way through the park. They're being actually 2 photographers that captured each and every moment. The bridge for me symbolized courtship at the foot of the bridge, engagement at the center and the rest of our lives at the other end of the bridge.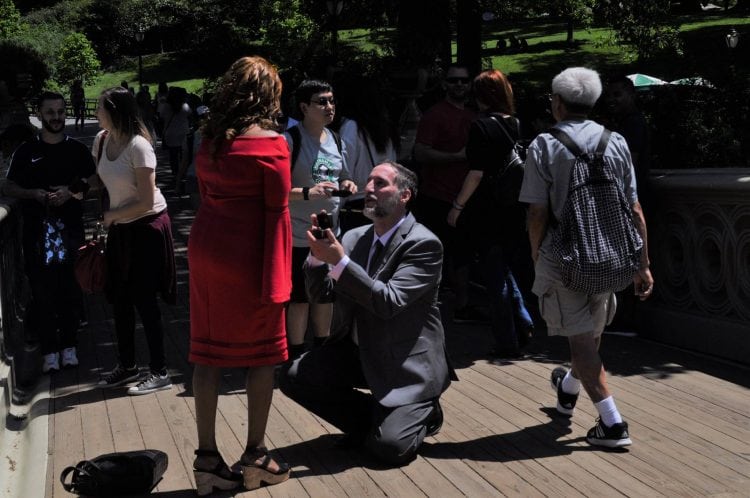 Sunny
Paul insisted that we go to Central Park at 2 pm. He asked that I dress up so that we could have a nice dinner after our walk through the Park. We took a Rickshaw to The Cherry Hill Fountain where Paul said he wanted to take pictures of me near the Azalea Bushes. We then walked down a path and found ourselves at the foot of Bow Bridge (A very romantic spot). When we reached the center of the bridge, Paul got down on one knee and presented me with a beautiful engagement ring. The moment brought me to tears and of course, I said Yes!
Thank You Christelyn!!!
Sunny
Our journey began with me watching one of Christelyn's video's which explained why Online Dating was the way to go. I never saw myself choosing that path because I thought it was for younger people. Had I not seen that video, I would have never met Paul.
Paul
Sunny shared Christelyn's videos with me shortly after we met, which I believe gave us the blueprint for navigating our relationship. I couldn't get enough of her videos. They were insightful and to the point. Sunny and I now watch Christelyn's video's together.
By the way…Sunny also enrolled in the Pink Pill and is in our private group. See how well it worked out for her? For more information about The Pink Pill, click here.