Serena has never looked, well…so Serene.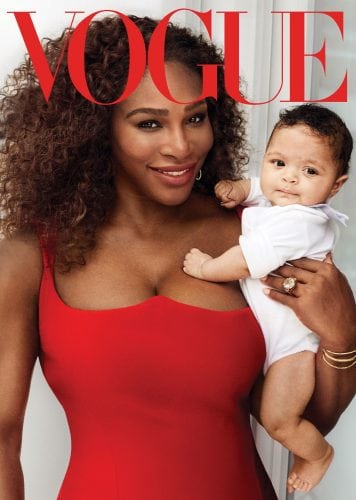 Looks like little Olympia (aka Junior) is having an amazing effect on the tennis star, and giving us all an example of what it looks like to live well.
She and baby grace the cover of Vogue's February issue, and I can just tell by looking this little one keeps mommy busy. She breastfeeding and planning a comeback, and ultimately planning on setting roots in San Francisco, home of Reddit, the company her hubby Alex Ohanian co-founded.
What an example of what can happen when you open yourself up to everything the universe has to offer–included dating ALL races of men, like Serena did. How amazing life can be when you allow quality men to love and care for you and give up on the 'struggle love' mantra the toxic BC insists you embrace as a rite of your womanhood.
The article mentions that Serena had dangerous and potentially life-threatening blood clots after giving birth and had to stay on bedrest. Alex jumped in to change diapers and care for the child, and it looks like Serena didn't want for anything.
What an amazing message and #swirlgoal to have come into February, the month of love.
Follow Christelyn on Instagram and Twitter, and subscribe to our YouTube channel. And if you want to be a little more about this online dating thing, InterracialDatingCentral is the official dating site for this blog.