I love a rich, sweet-smelling shower gel as much as the next girl, but sometimes I need a bit more. Anyone who's smelled their pits after a hard workout or bout of extreme stress can commiserate. Fr-fru fluffy shower gel won't do the job.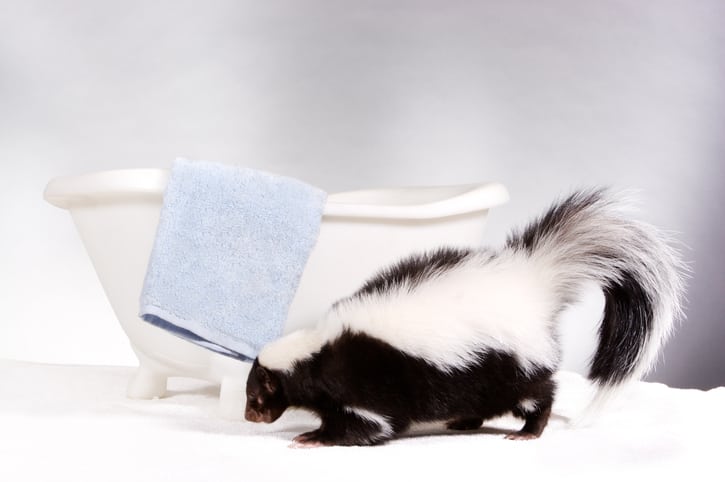 Recently on a particularly pungent episode, I tried Giovanni Detox Purifying Bath Bar out of sheer desperation. I'd bought the soap over a year ago and left it in the linen closet, forgotten and unloved. At the time of my purchase, I was on my high horse about some fancy schmancy shower gel that cost me $20. Sure; it moisturized and smelled nice, but…even after vigorous scrubbing my pits still had a tinge of B.O. The Ghost of Funk still lingered.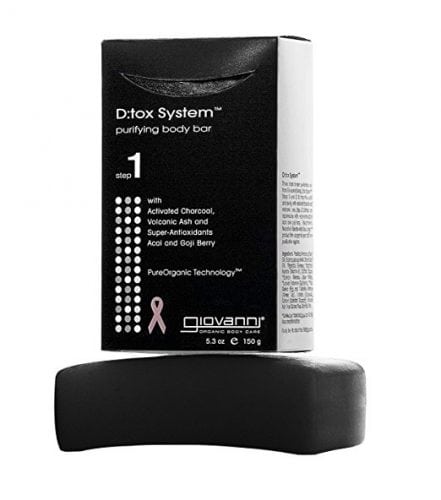 So I tried the charcoal. The package said:
The body wash contains a unique blend of activated charcoal and volcanic ash to delve deep into pores and absorb toxins, impurities and excess oils that interfere with clear skin. Hand harvested acai and goji berry, both exotic, super antioxidants, nourish and infuse your skin with vitamins and minerals. The wash is naturally scented with essential oils of fig and green tea for a light, clean, slightly fruity fragrance.
Charcoal and ash, though? What's that supposed to do? Turns out activated charcoal and ash work to bind and absorb toxins that can cause the offending odor. It's been used for 1500 years for this thing or that–from absorbing ingested poison to controlling stinky farts.
So there I was, warm water trickling down into the drain, looking at this jet black soap bar that promised to exorcise my doo doo demons. I scrubbed from neck to foot, generating lots of bubbles, and I guess the fragrance was good but that wasn't the focus. I rinsed and repeated. Judiciously dried, and cautiously sniffed.
Nothing.
No I'm serious. I smelled nothing. I took two finger and ran them along my pits and sniffed. Clean as a whistle.
I bet you thinking to yourself, "but will it last?" I know…I thought that too. It did. For a whole 36 hours before I could come up from under my laptop and mommy chores to bath again. Praise be! Take that, doo doo demons!!
Now I'm all up in Marshall's and TJ Maxx looking for other charcoal hygiene products. It's all the rage. Have you ever tried charcoal anything? What are you favs?
Follow Christelyn on Instagram and Twitter, and subscribe to our You Tube channel. And if you want to be a little more about this online dating thing, InterracialDatingCentral is the official dating site for this blog.