I went on a great first date last week. It was great except that I wore an outfit that showed too much cleavage. It didn't seem like too much when I left the house, but by the time I got to our meeting place, my top had migrated downwards and my bosom was bulging to the delight of my date. We joked about it but I would have preferred to make a different first impression. I had worn a cardigan with a camisole underneath to cover my bust. Unfortunately, the camisole just didn't stay up.
Some of you may have experienced a similar problem. Due to the size of my chest I just have to accept the reality…I have to wear large or extra large tops to accommodate it. Most men think about sex a lot and like to look at attractive women, but they do this even more when you are bulging out of your top (or when you are wearing very short or skimpy clothes). That is not the look that I am going for.
Some of you may say this isn't a problem, show your cleavage, don't hide it, it's men's problem if they stare, and you don't care if other people don't like it. Well that's not a battle I want to fight and it makes me uncomfortable to be so exposed. Sometimes I want to get that attention, but it's annoying when I want to cover up by my clothes just won't let me! If you don't want a men starring at your chest all night or only seeing you as a sex object then this problem has to be solved! So here are some ideas I have used and will use soon to make sure that I don't show too much cleavage anymore:
1) Buy tops that don't reveal your cleavage: I bought some yesterday. Unfortunately I have a large chest and large arms so many of the cute tops just didn't look right (elbow length sleeves are best for me. I think I just need to lose the weight and then the arm problem will go away). Even if a collar looks good on the hanger, I have to try it on because they often end up stretching lower than I would have imagined. Trying things on is a must! If you are a thrifter and a sewer then you can buy tops with higher collars and then cut  and hem them so that they are the perfect size for you.
2) Add lace to the bust areas of revealing tops: This is the next thing I plan to do. I will buy small pieces of lace in black, white, and the colours of tank tops and other tops I already have. I will cut the pieces to the appropriate sizes and then sew them into the tops. That way I don't have to go searching for new tops and I like the feminine touch of lace anyway.
3) Add fasteners to gaps between button holes: I had so many cardigans that I wasn't wearing because there were large gaps between the buttons that revealed bare skin underneath. So I bought some clasps (they were inexpensive) and sewed them on every cardigan that needed them. This took quite a while but it was worth it! You can use metal fasteners, plastic clasps, hook and eye fasteners, or velcro if you want.
4) Wear camisoles: Remember how your mom would make you wear cute little undershirts under your clothes? They came in packs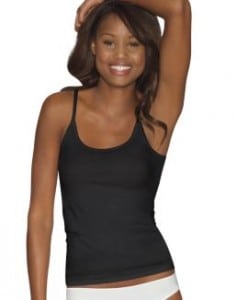 (e.g., Fruit of the Loom). Unfortunately they don't sell them like that for women so you will have to buy separate camisoles. Camisoles are good but sometimes they do slip down and reveal too much because they are stretchy. I think that I have to permanently shorten the straps on some of mine so that they stay up. You can also wear tank tops. I think that camisoles would be easy to make from t-shirts, clothes you don't wear, and some elastic, with some lace at the top if you like.
This blogger loves camisoles and states that you can wear many more tops, even revealing ones, if you just wear a camisole underneath (she has some good fashion advice to make the best out of your wardrobe). I don't recommend Cami Secret because they really aren't wide enough for someone with a wide chest and the bottom part doesn't stay in place. It seems to only work for v-necks (maybe I just need to sew a better version). The Essential Cami looks a bit better (hopefully it can be worn higher because even that shows too much cleavage for work in my opinion. I would totally sew that myself). There are camisole bras available but I would prefer something removable and changeable.
5) Sew up collars and revealing openings: You can also always hand stitch the openings of certain tops (e.g., v-neck tops) so that they are not as low. If a top can be pulled over your head then you can permanently stitch the spaces between buttons closed.
The most important thing is that you are comfortable and that you look the way you want in the clothes you bought with your hard earned money. Take control of your image! If there are items in your wardrobe you aren't wearing because they show too much cleavage then hopefully this helps 🙂