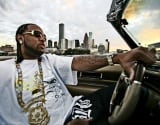 Slim Thug: 'Black Women Need To Stand By Their Man More' | Vibe.
Special thanks to Tanisha Shulamit Everett, my Facebook friend who pointed out this balderdash, claptrap, twaddle, blather, dross, rubbish, hogwash, baloney, tripe, jive, bilge, bull, crap, bunk, poppycock, piffle, bunkum…and, aww shucks! My thesaurus ran out of nouns for another word for complete shitloadofshit! (So sorry; I do try not to curse, but sometimes the thesaurus fails me.)
So…let me get this straight. This guy (BTW I have no clue who he is because I only listen to talk radio) wants us to cook, clean, support, have wild monkey sex, have low expectations, not hope for a successful black man, act like white women, act like a momma, give them money (did I get it all? hmmm, still feel I'm missing something…)
ALL WITHOUT GIVING US NO-THING, WITH NO-RING.
Oh! And his half-white girlfriend reference is priceless, simply and truly.
Question: How many black women will be reading that Vibe article using a highlighter, taking notes and making a list? How many? Stop the maaaaadneeeeessss!!!