Written by Nicole J.
If you are a makeup wearer, and have been for any length of time, you probably have your routine down to a science: primer, foundation, eye shadow, setting powder, and lipstick in some order, with additions and subtractions according to your preferences.
But does part of your routine include regularly washing your makeup tools?
Dirty makeup brushes and sponges can harbor not just old foundation, but bacteria and germs that can cause those pesky pimples and bothersome breakouts, or worse: dirty brushes have been linked to causing staphylococcus infections, conjunctivitis (aka pink eye) and cellulitis (a bacterial skin infection). Not to mention, leftover products in said brushes can cause makeup application to be uneven, spotty, or discolored. Why put in all that hard work for a mediocre finished product, right?
Though the process might be tedious, brush cleaning is a necessary step to include in your routine. In fact, once you start doing it regularly, you may get a sort of zen satisfaction as the leftover foundations and powders are washed away, leaving sparkling, fresh supplies to be used again.
The Spot Clean
Understandably, washing makeup brushes can take up a lot of time (depending on the size of your brush collection), but that doesn't mean you have to harbor dirty brushes. For cleaning in a hurry, you can use brush wipes like EcoTools Makeup Brush Cleansing Cloths or e.l.f Brush Cleanser Wipes to do a "dry clean" of sorts. Bear in mind this method is far from a deep clean and may require a bit of elbow grease to complete, and doesn't work well for product-heavy brushes like foundation or concealer brushes.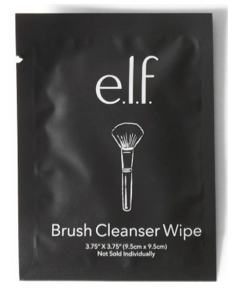 E.L.F Cosmetics
Another option for a quick clean is a brush cleaner spray, such as the Sephora Collection Dry Clean Instant Brush Clean, branded as a "dry shampoo for brushes", and like the other options, can tide you over until a proper washday is in order.
A Deeper Clean
When time permits, a deeper clean can be done to get into the nitty-gritty of soiled brushes. I have used the Cinema Secrets Makeup Brush Cleaner for years and it has never let me down. This waterless cleaner tackles everything from densely packed foundation brushes to clumpy eyeliner brushes with little effort.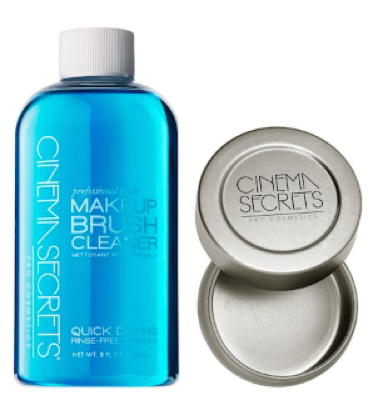 Sephora
The Brush Spa Day
As part of my weekly skin care and pampering session, I include a full on clean of all my brushes. What's the point of using dirty brushes on freshly exfoliated, rejuvenated skin? My favorite deep cleaners are the Sephora Collection Solid Brush Cleaner and the Ecotools Makeup Brush Cleaning Shampoo. With some warm water and these shampoos, leftover makeup is no match!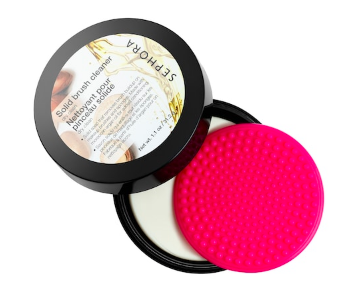 Sephora
One thing to bear in mind after washing your brushes is the way you dry them. Water can damage the glue holding the ferrule (the metal part of the brush) to the handle, so ideally, to keep your brushes intact for as long as possible, they should be dried with the bristles facing downwards. I got this brush drying rack off Amazon ages ago and it serves its purpose time and again. Alternatively, wrapping the brush in a clean towel and gently squeezing the excess water out the bristles, and leaving them flat, wrapped in the towel to dry for a few hours.
All that said, a clean brush is moot if the products you are applying are dirty. Always pay attention to the expiry dates of your makeup products, especially cream or liquid products like foundations, concealers, liquid lipsticks and eyeliners and mascara, and avoid applying makeup when you are sick. If you notice changes to the smell or consistency of your products, it may be time to toss them.
How often do you clean your brushes? Is there a method or cleanser you use that wasn't mentioned? Let us know in the comments below!