At last! Someone on The Talk that represents black women as smart, beautiful and poised. Because between Ne Ne and Sherri Underwood, LAWD knows we need someone to balance out the walking and talking stereotypes in that place.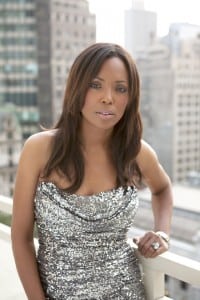 Yes, she's a beaut. But she's also a graduate of the Ivy-League (Dartmouth, like my sister-in-law), author, actress, and comedienne. While in college, she was a member of The Tabard, a co-ed fraternity, and co-founded and sang in the all-female a capella group, The Dartmouth Rockapellas, a group devoted to spreading social awareness through song. The Hubster used to have a mad crush on her when she co-stared on The Ghost Whisperer, but how could I hate on her? Heck, I crushed on her too.
When she's not busy being fabulous, Tyler spends an incredible amount of time volunteering for causes she deems worthy–The American Red Cross, Planned Parenthood, The Trust for Public Land, and the International Rescue Committee.
Why does she make the NNBW list? Well, DUH! Her and her attorney husband are avid beer brewers, and I LOVE BEER! And she plays poker. And she's a gamer.
Oh my GAWD. She's the perfect woman.