Sigh…a segment of people invested in keeping black women in an inferior position (and I say "people," because this group is composed of both black men, black women, and some other non-black folks) have made a big fuss online because Eve, a rapper, formerly urban, edgy, and the ride-or-die black chick most thugs are comfortable seeing, transformed her image and self-destructive mentality and in doing so, attracted the man of her dreams.
The fact that this man, Maximilian Cooper, is not black seems to be grounds to deem Eve, a "negro bed wench." Haven't heard of the term? Oh…it's the name black men give us black women who have dated and married non-black men. It's the label given to us by disenfranchised, powerless jackasses who attempt to use our painful, shared history of slavery as the reason black women should stay far, far, FAR away from white men TODAY. For these idiots feel black women owe them and our ancestors a blood debt, while statistically it is THEM who date and marry interracially twice as much as black women do. You hypocrites are absolutely disgusting.
I'm also not surprised that one of the wasp nests of hateful black men was facilitated on the online forum of a ultimate "IBM," Dr. Farrah Gray. A headline on his blog announced, "Black men from all over the world have taken to social media to call Eve a Sellout!" and was shared on by his fans on Facebook nearly 80,000 times. He also facilitated an informal poll asking whether or not black men still had a problem with black women dating interracially, with 49% of over 22,000 voters saying "HELL YES THEY DO!" Let me preface that I know Farrah–I've met him in person and we are Facebook friends. At not even 30, he has been amazingly successful. He's also relatively good looking, which makes him a absolute catch to Essence-identified black women. Hey black ladies! Come drool over this successful black man you can't have!!! LMAO…
On the flip though, I find it completely irritating that Farrah is the very type of man used as the black woman's dangling carrot–he's a best-selling author, wealthy, handsome, and guess what? He's so single it's absurd. Apparently despite all the millions of single black women thirsty for a black man of his caliber, men like him can't quite find the "right" one. But black ladies, you just keep on chasing, okay? Because men like him just love having huge swaths of you begging and pleading to be worthy enough to maybe one day snag a man like him when he approaches middle age and contemplates who might change his Depends when he becomes incontinent. That's right ladies, aim high and pray to your god to be worthy enough. It's like a lottery. You have to play to win. Play, and play, and exhaust all your resources, because there's astronomical odds against you.
Please note that I have nothing personally against Dr. Gray or men like him. They are in an enviable position because of their rarity in the black community. They are simply taking advantage of a buyer's market. I don't have any beef with that. But these same men need not huff and puff and throw around the "bed wench" moniker when black women begin to opt out of begging to win the "good and successful black man lottery" and find love in whatever melanin package it comes in.
Quality black women should not have to wait for these quality men to stop exploiting the dating market. Black women should be free to move on and live fulfilling romantic lives with men they don't have to fight, scratch, scheme, beg, bleach their skin and scalp poor Indian women for. Don't be mad if a quality man of a another race appreciate, loves, and wants to wife up the "plain old regular black girl" you stomp over for the "exotical" chick you want as arm candy. And for the love of the Good Black Witch, please stop sitting on your hands and sniggering silently when your fellow brethren throw black women who just want a chance a love and happiness under the bus!
Further Discussion: My co-author of our widely-popular book, Swirling: How to Date, Mate and Relate, Mixing Race, Culture and Creed, Janice Rhoshalle Littlejohn, will take part in a Twitter discussion today at 2PM. Time to let our voices be heard.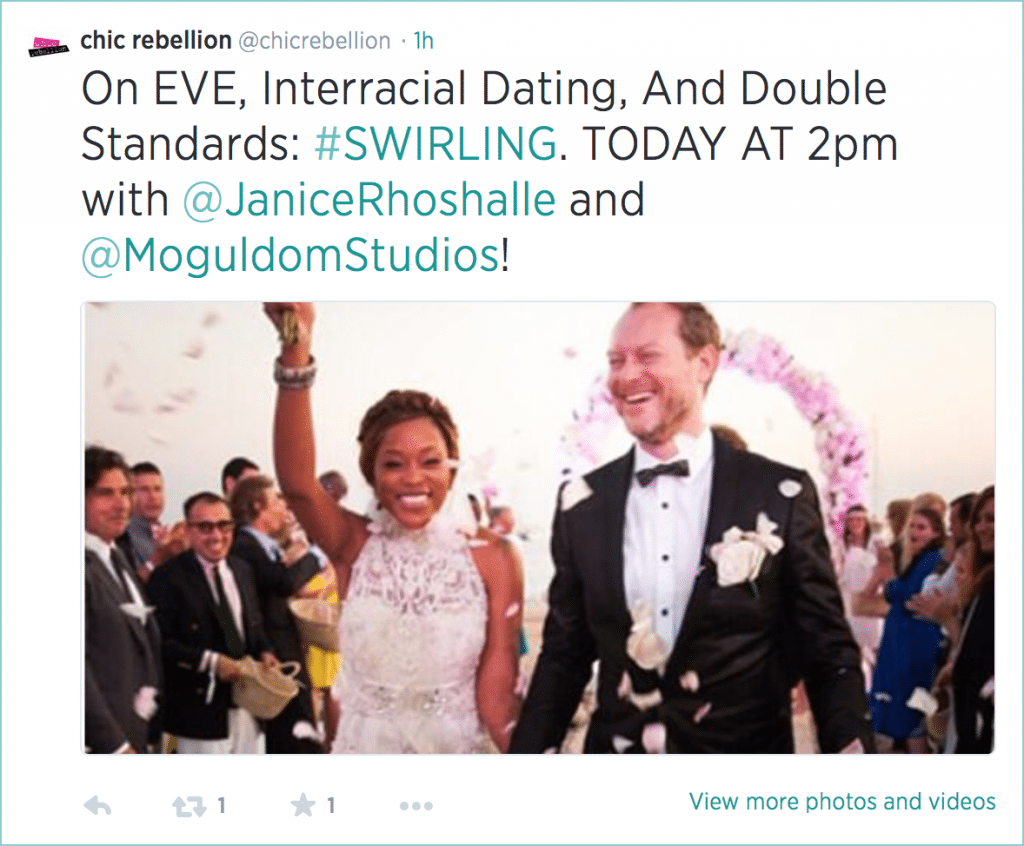 Have you checked out my You Tube channel? Totally dedicated to your most burning interracial dating questions. Here's my commentary on the jerks who called Tamara Mowry a "White man's whore."