A few days ago, model Aamito Lagum took the internet by storm when MAC Cosmetics posted her perfect pout while at New York Fashion Week. The woman is gorgeous and unambiguously black–dark skin, full lips, and kinky hair. And you know what? There were folks who were NOT here for it. As an aside, I'm thinking the person who wrote that long insult isn't a white woman, or if she is, she's very "hood" identified. Using words like "ya'lls," "WHERE THEY AT THO?" And when addressing the white woman collective, instead of using "we" the writer uses "they."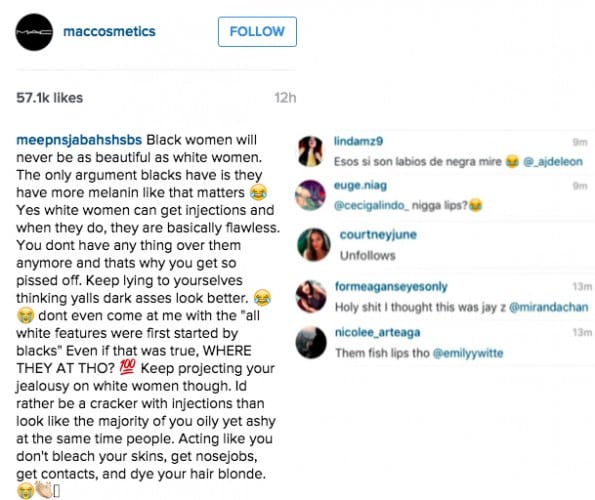 Does Angelina Jolie have "nigga lips?" Here's what's true: If these had been Kylie Jenner's lips, which she would have to MAJORLY surgically enhance, it would be a headline on Yahoo News: Kylie Jenner's Perfect Pout Gets Raves at NYFW!! And she'd sell 58,243 more lip plumping kits.
And so it goes. Black women could practically trademark the NATURAL, round bubble butt. But Kim Kardashian's fake one gets her a magazine spread and a few more millions. Magazines catering to white women are tutoring them on how to make an afro. It seems as if white women want to pick features phenotypically associated with black women a la carte, but seem to be repulsed to see these features naturally occurring in us. And it is in that way, black women are often viewed as lesser than our sum of parts.
What I have observed regarding the "beauty appropriation" arguments and all the drags on 'black Twitter' is that it does little if nothing to move the needle in terms of demanding and acknowledging authentic black beauty in any tangible way. That's why I think it's pointless to demand that we be recognized as the source of these beauty trends.
But instead of stewing, be inspired. I love the way the #prettylipsperiod hashtag is inspiring pride and celebrating what God as gifted us without any medical intervention.
Focus on being your absolute best and most beautiful self. Don't worry about who's trying to look like you, and don't try to look like them. God didn't make a mistake when He created us, so tap into your unique beauty and hold your head high. Cuz you know somebody will be watching.
And taking notes.