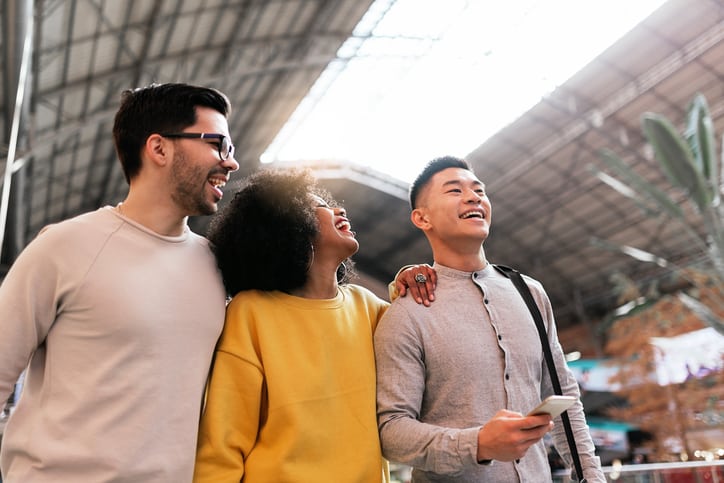 One of my fans confided in me that she was so set on dating Asian men that she learned Mandarin and Korean. She then set out for an extended trip to China to teach English. She never came back to the states because she found the guy of her dreams–a Chinese American who traveled back and forth for business. The situation worked for him because his mother still lived in China. When I asked her how she managed meeting her boo's mother, she told me that, upon meeting her, greeted her in Mandarin. His mother was so impressed because she completely blew any stereotype she had out of the water. Learning some phrases and building up vocabulary over time showed her future mother in law that she was willing to honor the traditions and respect the culture, which naturally made her more comfortable with the idea of her being a daughter in law.
Think of the potential if you learned a language and was able to successfully navigate in specific cultural enclaves and make friends and connections. Learning a new language has the double benefit of making you smarter and more attractive to foreign men. Sounds like a win all the way around.
But what's the best way to learn a new language? Some people swear the "total immersion" method, where you basically plop yourself smack dab in the country that speaks that language and sink or swim. Sure; desperation will force you to quickly learn the basics like "where's the bathroom," most of us aren't going to willingly expose ourselves to all that stress and unpredictability.
Try Rosetta Stone With a 3-Month Subscription

My buddy Jordan Harbinger, former co-founder for The Art of Charm, knows several languages and swears by one-on-one lessons. He doesn't even have to be physically present for the lesson because it all can be done over Skype. But private lessons can get expensive and you might not always be able to be consistent if lessons conflict with your work schedule.
Thank the heavens for technology. Rosetta Stone is perhaps the best-known language learning software. They've certainly been around enough. I remember the impossibly thick books with the CDs in the back. Now, of course, it's all online so you can fit in your lessons any time you have a few minutes or a chunk of time. Rosetta Stone has learning programs from all the languages you'd expect, like Spanish, Italian, French and German, but also lesser-demand languages like Urdu and Swahili.
Rosetta Stone even has an interactive element that isn't just about drills. You can learn by playing games and have real interaction with other people so you can have the opportunity to exercise your newfound knowledge.
Babbel is another popular language learning tool that you can access on your phone, that opts for repetition and quizzes to impart learning but feels less interactive. It might be best used as a supplement and review than a primary instruction tool.
Have you ever tried learning a language to expand your dating pool?
Follow Christelyn on Instagram and Twitter, and subscribe to our YouTube channel. And if you want to be a little more about this online dating thing, InterracialDatingCentral is the official dating site for this blog.