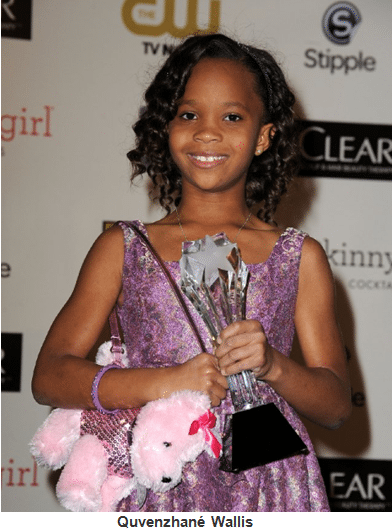 I got the thrill of the day while watching Good Morning America when the news of the Oscar nominees broke in live.  Most of the movies and actors I knew of but was blown away when they got the category of 'Best Actress'. There was  Jessica Chastain for  "Zero Dark Thirty," Jennifer Lawrence for "Siver Linings Playbook,"  Naomi Watts for "The Impossible," Emmanuelle Riva for "Amour"  I was listning to the nominees and thought, "ok yeah, yeah whatever.  Lastly, they announced Quvenzhané Wallis for Beast of the Southern Wild.  My concentration was broken for the next few hours as I rushed to look up all I could on this wonderfully talented little girl.
Quvenzhané Wallis auditioned for the role of "Hushpuppy" in the acclaimed movie Beast of the Southern Wild.  Mom told a little white lie to get Quvenzhané into the audition because the minimum age was 6.  She was only 5, but mom must have known that the "Hushpuppy" character had her daughter's name written all over it because Quvenzhané beat out 4,000 other kids for the role.  Director Benh Zeitlin knew that her performance would be masterful and selected Quvenzhané.  Evidently he was right.
Having been recognized as the youngest nominee ever, we are so proud of Quvenzhané.  She has literally become a star overnight.
The acting offers will come pouring in whether she wins the Oscar or not.  Of course it would be phenomenal if she won to coveted Academy Award, but it is an honor just to be nominated and it speaks volumes as to Quvenzhané's talent and acting ability.   Did  mention that  she's beautiful too?
I hope Quvenzhané's parents keep her well grounded as show business is tough for most let along children.  But what a little role model she already is.  Kudos Quvenzhané and good luck on Oscar night!
Official Trailer
Plot: In a forgotten but defiant bayou community cut off from the rest of the world by a sprawling levee, a six-year-old girl exists on the brink of orphanhood. Buoyed by her childish optimism and extraordinary imagination, she believes that the natural world is in balance with the universe until a fierce storm changes her reality. Desperate to repair the structure of her world in order to save her ailing father and sinking home, this tiny hero must learn to survive unstoppable catastrophes of epic proportions.  Beasts Of The Southern Wild Official Trailer courtesy of Fox Searchlight Pictures.