After yesterday's post, we BB&W tenderfoots can learn A LOT from Brenda Brody, 60, who is a veteran of the swirling and rain-beau love. In fact! She was…gasp…a groupie! I am in AWE. All HAIL BRENDA BRODY!!! Think I'm exaggerating as usual? Read for yourself.
"It's All Part of My Rock and Roll Fantasy…"
By: Brenda 'kickassblackchick' Brody
It started when I was about 14. I saw a picture of the Beatles and it was on. My little heart started pounding about Paul McCartney. Having just been soundly rejected by one of the black guys on the basketball team, I found solace in the Beatles – especially when they showed interest in the Ronettes. A reporter asked them if they would – horrors of horrors – date one of those black girls and they all said something close to 'hell yeah!' George was actually dating one of them! I was in love.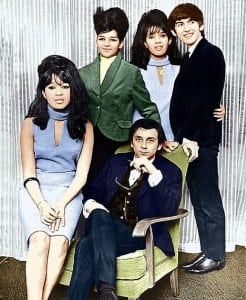 The Ronettes and George Harrison. Oh yeah, and Phil Spector making sure nobody got near Ronnie.
It was obvious that I wasn't cute enough or sexy enough for the boys around me but as long as I knew there were white boys who weren't afraid to like us, I had hope. And back then, the rockers seemed to really like black girls. I knew where I had to look and it wasn't at those local boys around me. I knew I was cute.
I still loved my Motown and Stax and all, but I loved those rockers. The people around me kinda got used to me talking about the Rolling Stones and the Animals and all. I was already so different from the other folks – I got good grades, I loved to read, I spoke 'proper' and I was smart. I 'acted white' so did didn't surprise anyone that I liked 'white' music.
But I had a nasty venomous tongue that nobody wanted to tackle so nobody really said anything to me. But I saw the looks and the head shaking and I knew what they meant. I didn't care. I was used to being on the outside by then and was proud of who I was. I'm a black girl who loves rock music and loves the men who make rock music even more. Now run tell that.
When I was 18, I left home and went to Chicago and started going to concerts. The good thing was I met other black girls like me who liked white guys and especially white guys in bands. A lifelong love affair was started and I made friends that I still have.
My friends and I used to hang out at all the places where musicians played or hung out. We met a lot of the bands when they came to town and we got backstage and hung out at the hotels and went to parties and became part of the scene. Sometimes we were the only black girls around which gave us a particular status. We were the orchids among the daisies. We also kept our knickers on (mostly) and didn't get some of the comments the other girls got. We weren't as infamous perhaps, but we are still friends with some of the men we met now.
I looked at the Beatles with a woman's eye when I got older and saw something sexy about John Lennon. But everyone knew you'd have to take a hammer to Yoko so we chilled. Paul was still fine but Linda was all over him like a tattoo.
I loved Jim Morrison just like everybody else. The way he moved in his leather pants lit my fire for real. And I'm sorry; nobody wore suede pants like Roger Daltrey – except maybe Robert Plant. Don't believe me? Look at some of those old videos of the Who and Led Zeppelin and tell me those boys weren't oozing sex appeal. I don't care what color you were, that was some fine stuff! If you liked sexy men, they were some ….well, see for yourself!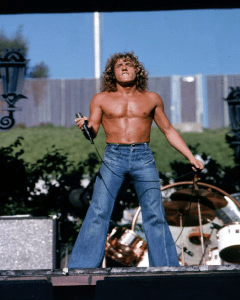 Now how fine was Roger??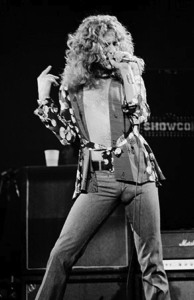 And Robert Plant? Child, please!!
But when I was about 24 or 25, I was in a record store and looked up a a poster and saw a vision that stopped me in my tracks. "Who is that?" I asked Jim, the owner of the store. He grinned.
"That's Pink Floyd."
"No," I said, pointing at the gorgeous man in the middle with the long hair and penetrating eyes. "who is he?"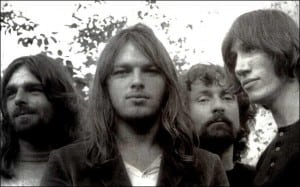 "That's David Gilmour. He's the lead guitarist and singer."
"Oh my God! I want him for Christmas!" I sighed.
When I went home and listened to "The Dark Side of the Moon" it was with different ears. I was in love. More accurately, I was done. What did Chaka say, "Ain't nobody?" Lawd, there ain't been nobody like that for me since. DSOTM was already my favorite album but I loved it even more after that.
Life went on and things happened and I met lots of men, fell in and out of love like everyone else, but that man still has a piece of my heart. I still want him for Christmas. I still don't care what anybody says.
I love rock and roll!