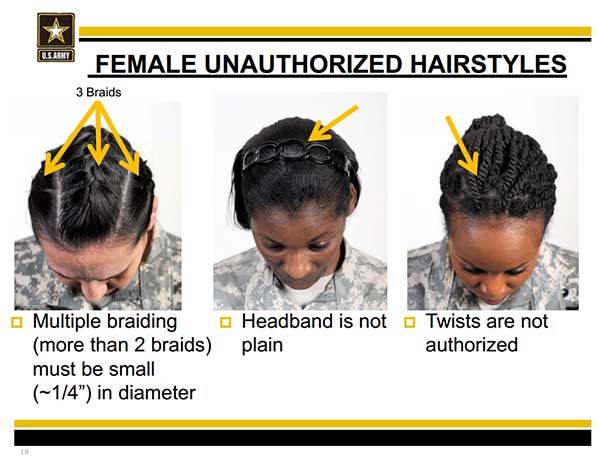 Are you shocked and awed by the U.S. Army's "tough" new hair rules  that many say targets black women?  According to Army Times, critics believe that the new rule, AR 670-1, basically outlaws the natural hair of black women:
These critics argue the Army, through a handful of rules, has essentially made natural hair illegal for these troops.
The specific styles deemed unprofessional are twists, dreadlocks, cornrows and multiple braids that are more than 1/4 of an inch in diameter, and hair stretching more than 2 inches from the scalp.  Regarding those cornrows, you can't have more than two in your hair. If you really want to get technical, the new rule suggests (see page 6) that black women are only authorized to wear wigs as close to their natural textured hair as possible. Does that mean only kinky wigs are allowed for black women while white women are forbidden to wear kinky wigs? In fairness, this wasn't a decision without any input whatsoever from black women. Here's another snippet from Army Times:
These standards were not made without consulting women. Hundreds of female soldiers were surveyed about the rules, and a black female sergeant major led a focus group discussion.
Black women included or not, there has been a huge backlash against the implementation of the new rules. What exactly is so upsetting about AR 670-1? According to the New York Daily News, some of the women of the Congressional Black Caucus reference the "offensive language" used to describe certain hairstyles worn by black women:
The lawmakers took particular issue with the document's use of terms like "unkempt" and "matted," which they said shows "a lack of cultural sensitivity."
I'm sure we've all seen natural hairstyles on women that did indeed look unkempt and messy but we've also seen some that were quite neat and professional looking. Still, there are those that say we all need to stop sweating "small things" like this. Yes, there are black women veterans that see no problem with the rule.
Check out an article from Ebony.com:
"Toughen up, buttercup" to those who are terribly bent out of shape. There are many things about life in the U.S. military that I can (and have) criticized, ranging from substandard medical care on some posts to the climate that allows sexual harassment and assault to be swept under the rug.
This is a powerful point. Why make a huge deal about rules that are actually not as restrictive as some may think. They point to the fact that there are bigger fish to fry?
So what do you think about the Army Hair Rules?