If you're a broad (aka kick-ass chick) and black, and your live in the Netherlands, I mean, what other name, Black & (A)broad, could be MORE PERFECT? And for those of you on the fence about packing up a trunk and moving the heck out of Dodge City, perhaps my interview with author, Carolyn Vines, will put a rush on your passport paperwork, or else you can do what Russian ladies do and put out an add to be a mail-order bride. But then, what would be the fun in that? Worse, the purchasers of the order-brides are sometimes miscreants. EVERY man I've ever seen on the ID Channel who had a mail-order bride was shaped like a barrel and had breathed through his mouth. AND THEN, if their wives didn't adore their crusty unwashed feet, they just killed them. So really, I'm just looking out for you. So…get a passport, okay?
Now back to what I was talkin' bout–Carolyn Vines met her Dutch husband in Washington, D.C., then had a brief stint in New Orleans (she said she had absolutely no problems dating her rainbow man there–maybe they thought he was a octoroon? Diezoroon? You be the judge: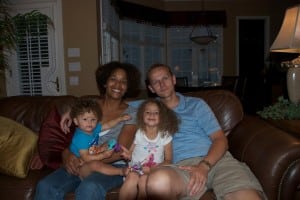 Eh…ain't no 'roon' in that handsome Dutchman, who just so happens to be a CEO of a large security company. BTW, do you see Carolyn sporting the shite out of her natural hair? WHAT? Here husband doesn't demand she wear a perm? Somebody call security.
Sometimes beer makes me divert off of the subject, but again, back to Black & (A)broad:
After accepting her Dutch boyfriend's invitation to move from sultry New Orleans, Carolyn finds herself in the land of windmills, wooden shoes and endless gray skies. As she moves away from the remnants of her tragic childhood and America's obsession with race, she is plunged into the depths of homesickness, depression and a declaration of war on her own hair.
She travels through motherhood and a career change, and her determination is put to the test. On the way to self-discovery, she ends up finding love, soul sisters and the secret to avoiding bad hair days.
In this mid-life memoir, Carolyn writes candidly about how getting the runaround in Spain, being mistaken for a prostitute and losing her passport in Cuba, and dealing with Dutch people on their bikes (among other quirky adventures) have changed her ideas about being a black woman in the world.
Take a listen to our interview. She sheds even MORE juicy details; take a listen: Carolyn Vines BB&W Exclusive Interview
Now, to the contest: For those of you ladies planning to find love (A)broad or at least testing how the water are across The Pond, gives us a looky at your intentions for the new year. Whoever has the most well-laid plans gets a FREE AUTOGRAPHED COPY of Black & (A)broad. Since I don't want any of your mad a ME, I'm making Carolyn be the judge.
Come on, it's the Christmas season! You need practice sharpening those claws so you can fight over the sales anyway.
DEADLINE: SATURDAY, NOVEMBER 27.
Join the Black & (A)broad Fan Page here