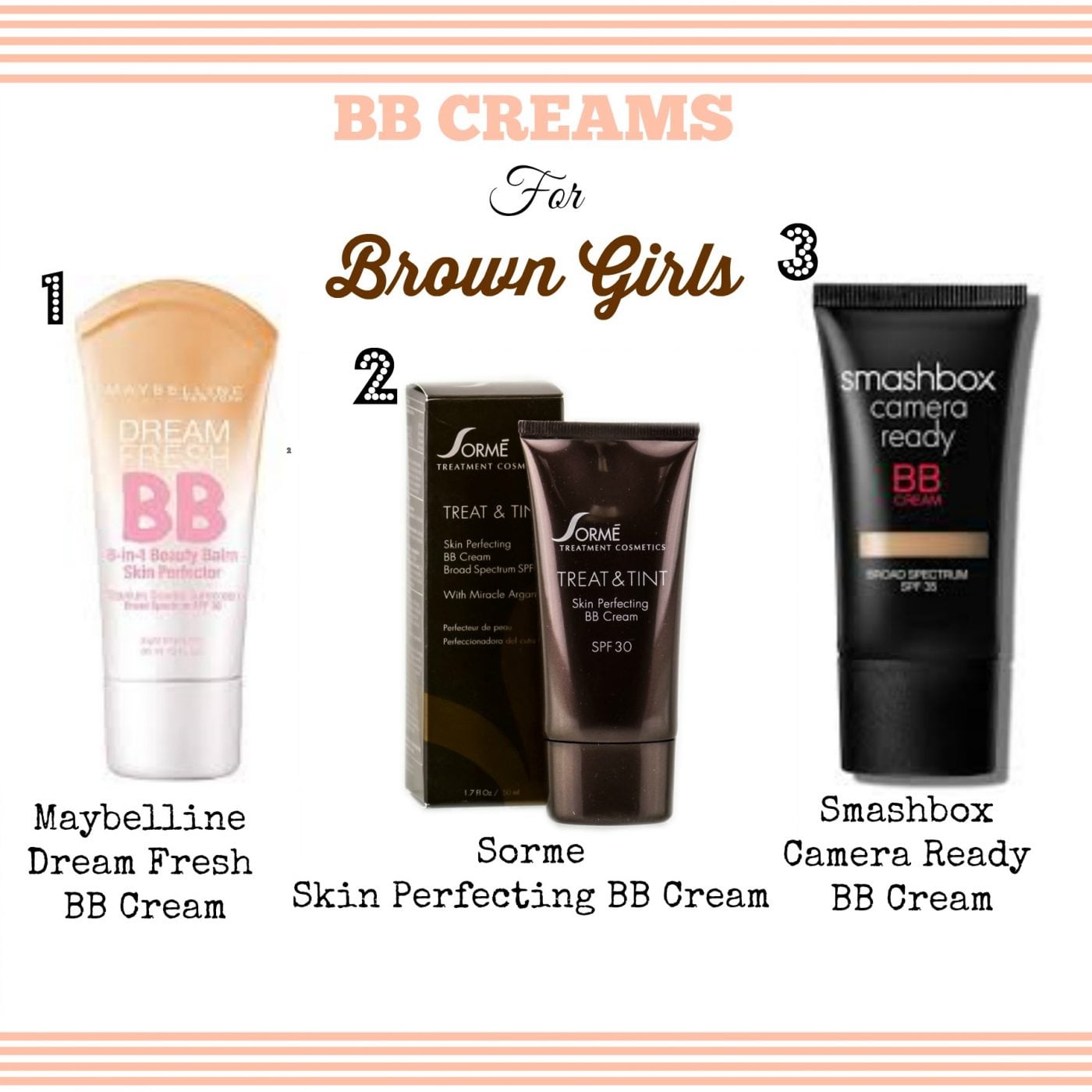 Hello Brown Beauties! BB Creams or beauty balms have become very popular in the last few years and now every major beauty brand carries some sort of variation of the cream. It's supposedly not as heavy as traditional foundation and  promises to cover imperfections in a more realistic manner. As we all know, the beauty industry doesn't always cater to women with darker complexions. I know firsthand what it's like to try a medium/brown foundation or bb cream and it leave my skin looking pale and ashy, not complimenting or blending into my skin at all. Out of the three BB creams listed, I have personally tried number 1 and number 2. The third one I added to the list after researching and finding it on many brown skinned ladies go-to list of bb creams. Check out my recommendations below, enjoy!
Maybelline Dream Fresh BB Cream is a winner because of price point, convenience and performance. The fact that you don't have to go to the mall or specialty store to pick it up really makes it an awesome choice. It blends into skin instantly and creates great coverage without looking overly made-up. My only caveat is that it can be a bit greasy, so I would recommend using a pressed powder to set it. Other than that, it's a solid bb cream for an awesome price!
Sorme Skin Perfecting BB Cream is another bb cream that blends nicely with most darker skin tones. I came across this brand through a beauty subscription box and I have been raving about it ever since. Even though it  plainly says bb cream on the label, this product performs like a foundation. My skin had flawless coverage and felt very moisturized and looked youthful.  Sorme's cream includes argon oil, vitamin E, essential fatty acids, aloe and chamomile to help sensitive skin and calm redness. The price is a bit higher than drugstore brands but I believe that it's worth it.
Smashbox Camera Ready BB Cream is the most expensive of all the bb creams, but boast a 4 star rating on Amazon and Ulta. It also made it to the top of several brown beauties top bb cream picks. It has 35 SPF and promises to minimize shine without a chalky finish and guarantees to improve the moisture of your skin within 4 weeks! The verdict is still out for me as I have yet to try this one, but I will definitely be picking it up soon.
Do you have any other brands that you'd like to add to the list? I'd love to hear from you and get recommendations so I can try them!

Emerald Lavender is a freelance fashion, beauty and interior design writer with over 5 years of experience writing for magazines, brands and websites. Check out her blissful and bubbly blog at Pink Balloons For Lunch!