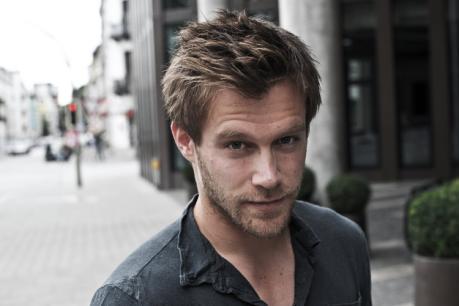 I got a chance to catch up with German-made hotness, actor Ken Duken, co-star of "My Last Day Without You." You might also remember him in Inglourious Basterds. He's inSouth Africa gearing up for his next movie, but we were able to chat briefly about his role as "Niklas," Nicole Beharie's romantic interest. Remember ladies, he's German, so the tranlation is a bit choppy, but I personally find it deliciously endearing.
//BB&W: What was it about the script of "My Last Day Without You" that moved you enough to participate?
//Duken: I choose mostly from the gut and go on instinct. I liked the script very much, I love New York, and very rarely actually turn this genre, so for someone who likes to reinvent himself and tried was the foundation already ideal. After I had, but met with director Stefan Schaefer in Berlin for me there was no more reason not to turn.
//BB&W: In the movie, you play Niklas, a German business man who crunches numbers. Your lineage is German, but does the commonality between you and your character stop there, or are there any similarities?
//Duken: I wish I could handle so good with numbers … no really there is no other parallels. I'm more of a definitive gut instinct.
//BB&W: Niklas and Leticia come from different backgrounds. But…it's not just that he's "a suit" and she's an artsy musician. He is white and she is black. Do you find that society views interracial couples such as these differently in America than in Germany?
//Duken: I live in Berlin and one of the reasons why my wife and I have decided to live there is that the different social mixing actually is normal there. There are all sorts of interpersonal relationships and circles of friends who do not seem to fit together at first glance, exactly, for me that is the charm of this city. For me personally, there is nothing unusual about it.
//BB&W: We hear you're in South Africa. Tell us about your current project!
//Duken: At the time I shoot in South Africa "Northmen -A Viking Saga". The film is about a group of Vikings who suffer shipwreck behind enemy lines.
Love Ken as much as we do? See him mack on Nichole Beharie in My Last Day Without You in select theatres THIS WEEK.
ATLANTA
Phipps Plaza AMC
3500 Peachtree Rd NE
Atlanta, GA
(404) 231-1492
SEATTLE
AMC Pacific Place 11
600 Pine St #400,
Seattle, WA 98101
(206) 652-8908
WASHINGTON DC
AMC Georgetown 14
3111 K Street, Nw
Washington, DC 20007
888-AMC-4FUN
CHICAGO
AMC River East 21
322 East Illinois Street, Chicago, IL 60611
(888) 262-4386
NEW ORLEANS
AMC Elmwood Palace 20
1200 Elmwood Park Blvd, Elmwood, LA 70123
(504) 733-2029