Race-Based Dating?
I'm a black woman who has always been attracted to guys of different races, but growing up in a segregated city in the Midwest, there weren't many Asian people around, so I never even thought of liking Asian guys until I was about fifteen. Perhaps it started with all those Hong Kong action movies I began watching with my mom. In four years of high school, there were only three Asian kids at my school, including a cute Chinese boy that I ended up having a crush on in tenth grade, but he transferred to another school just as we were becoming friends.
As an adult, I dated a few Asian guys and had been interested in meeting more, especially since I was studying Japanese and Korean, so a few years ago when a friend of mine invited me to party he was hosting at his house for black women and Asian men, I was all for it. My friend, a Vietnamese man who likes black women, had been listening to my boyfriend drama for the past few months and he thought this would pull me out of my funk. Boy was he right!
At first I wondered if it was too contrived to specifically try to meet Asian guys, but then I thought, "Hey, if you want Mexican food, then you go to a Mexican restaurant," so to speak. And at least at an event for black women and Asian men, I wouldn't have to worry about the guys not liking black girls!
When I arrived, I was pleased to see that all the guys were pretty attractive. I was also relieved that there was a good ratio of males to females, so we wouldn't have to fight over all the hotties! I was a bit nervous, but no sooner than I had grabbed a beer, a nice Taiwanese man who happened to be standing near me began chatting with me. We talked about everything from old school Hip Hop to outdoor sports and as the night went on, I ended up meeting a banker, a DJ, and a filmmaker, among others, all of whom were equally cool and interesting. The women were cool too. They were all educated and eclectic and it was nice to have real conversations with no cattiness involved. In this intimate setting, we were free to be ourselves with no stares and judgments from outsiders, and no one, black or Asian, felt the need to fit any stereotypes.
Everyone had been asked to bring something to the party and most people brought alcohol, so by the end of the night, we started becoming even friendlier with one another. People began pairing off and some couples started making out. After getting a bit tipsy, I began dancing and the next thing I knew, a cute Chinese guy that I had recently met, got behind me and started dancing with me. More couples joined in and soon, my new dance partner and I found ourselves in a four-way grind on the dance floor! Grinding eventually led to making out and I spent the rest of the night kissing and talking with my new friend. He even ended up driving me home at the end of the night.
The event was definitely a success and even though we all came together to meet males/females of a certain race, at the end of the night, we were just guys and girls having fun and getting lucky. And the funny thing is that no one even spoke of race the whole night. Race was the hors d'oeuvre, but it wasn't the main course.
There were varying reasons why people attended the party. One guy said that he had never considered dating black women until he met his ex-girlfriend, who was black and now he was open. Another guy said that he had many black male friends, but not many black female friends and that's why he came to the party. As for the women, one lady had lived and studied in China for years and others wanted to expand their horizons in order to find Mr. Right.
Almost everyone agrees that ending racism and having racial harmony is a good thing, but when that racial harmony involves sex and dating, people still become very uncomfortable, especially when it comes to specifically seeking out people of a certain race. Some people are stuck on the idea that interracial relationships should "just happen", but in a country that is so racially polarized, that isn't always possible. The majority of people in this country befriend and date people of their own race/ethnic background. People who are open to dating anyone don't walk around with signs on their heads, so race-based events can eliminate the question of "Will he/she reject me because of my race".
Well, there was no more boyfriend drama after the party because I moved on. I went out with the guy who drove me home for seven months and if anyone asked how we met, we just said that we met at a party, not a party for black women and Asian men. Even though things didn't become serious between us, I still count the experience as one of the best times in my in my life. At the end of the day, we were just a girl and a guy dating and having a good time, regardless of the way we got together.
About the Author: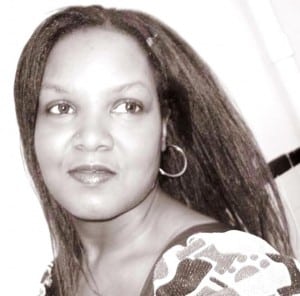 Melissa Aki currently resides in Brooklyn, NY  and has a background in writing and photography. Her work has been published in Yahoo! News and HubPages and she recently released her first novel, All Fall Down, which is available on Amazon.