Ever wonder why slave women wore headwraps? I was told once that it was because their hair was so offensive to the sensitivities to polite, white society that it needed to be covered in order for onlookers to keep their food down. So it's no wonder black women developed a deep hatred for all those curls and kinks.
Turns out that was a lie. It was to eliminate the wandering eyes of their men, who marveled at the intricate styles African women wore. They wanted to eliminate the competition by covering our crowns.
Black women spent the better part of a century in trying to hide their natural coils with wigs, harmful chemicals and heat styling. But if we knew our history we would know that our crowns were a MAJOR threat to white women during slavery, who urged their husbands to enact laws to prohibit black women from showing all the elaborate styles the caught the attention of white men. Rewritten history will try to report that white society made black women cover their hair because it was so "ugly." Oh no. It was because it was so BEAUTIFUL and UNIQUE from white women's hair that it drew attention away from them and on to slave women.
Look up the history of the Tignon, a head covering uses to wrap around the heads of Creole women after laws were passed in 1786. According to Wikipedia, "Women of African descent vied with white women in beauty, dress and manners. One of their most standout physical attributes that separated them from their white female counterparts was their hair. Some of African descent would often adorn their hair with colorful jewelry, beads and other accents, demonstrating an exotic appearance white attracted the attention of white male suitors…French and Spanish Creole men incurred the jealousy and anger of their wives, mothers, sisters, daughter and finances."
LADIES, WE HAVE ALWAYS BEEN COMPETITION FOR WHITE WOMEN, BECAUSE WE HAVE ALWAYS CAUGHT THE GAZE OF THEIR MEN–and not just for sex. The big, long con convinced us all that it was because of how "ugly" our hair was, that caused us to develop such internal hatred of our hair, when in fact, it was white women who put that in place because of the fear of losing their men.
Centuries later, the descendants of the women who convinced their men to enact laws to hide our crowns have also been convinced of our inherent inferiority, and are truly shocked and dismayed that non-black men would ever choose us over them. Even we black women continue to be shocked by this interest and often meet the men who show us interest with suspicion.
That Was Then, But This is Now.
We've been victims of a long, long con.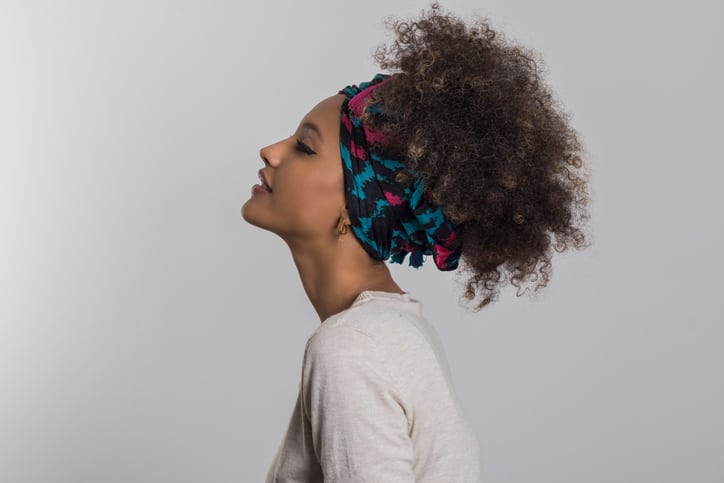 Continue to release those curls, ladies!
Follow Christelyn on Instagram and Twitter, and subscribe to our YouTube channel. And if you want to be a little more about this online dating thing, InterracialDatingCentral is the official dating site for this blog.