By Stan Solomillo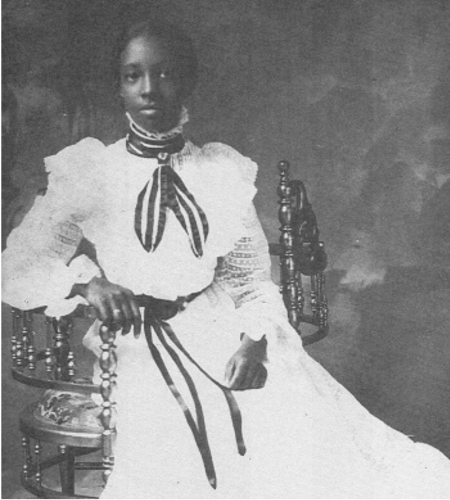 Carlotta Stewart in Honolulu, Hawai'i, c. 1900.  (Original at Moorland-Spingarn Research Center, Howard University, Washington, D.C.)  Courtesy blackpast.org 
Black Women In History: A Bill, An African American Educator in Hawai'i, and Surfing   
On February 17, 2015, Senate Bill 194 was passed out of committee and scheduled for the floor of the Hawai'i State Legislature.  There remains some concern among its sponsors (Will Espero, Rosalyn Baker, Mike Gabbard, Brian Taniguchi and Glenn Wakai), that there may not be sufficient community support to garner the votes necessary for it to become law.  This may not appear to be particularly noteworthy because bills come and go all of the time in the bi-annual sessions of the Hawai'i State Legislature but this one is different.  Senate Bill 194 provides for the establishment of a "Hawai'i Commission on African American History and Culture."
Those unfamiliar with the history of the islands might question why such legislation is necessary or why there would be a need for a special commission on history for this specific ethnic group.  After all, most people are aware that Hawai'i has the most ethnically and culturally diverse population in the United States (with thousands of inter-racial couples and multi-racial children), and appears to extend both welcome and largesse to all races under its much touted "Spirit of Aloha."  The need for such legislation was perhaps best demonstrated from research that was conducted by Kimetta R. Hairston, a professor at Pennsylvania State University, which she published under the title, "Dehumanization of the Black American Female: An American/Hawaiian Experience" (2008).
Professor Hairston found that African American female (and male) students of elementary, middle, and high school ages in Hawai'i (often the progeny of Black and inter-racial couples, whose spouses are on active duty in the U.S. military), were regularly subjected to racist taunts at schools and that little appeared to have been done to address the issue by faculty or administrators.  That hate speech in the school yard still existed in such frequency to merit study after the start of a new century and possibly today is troubling in itself, but its existence in Hawai'i schools remains particularly tragic, given the multi-ethnic characteristics of the larger society and the fact that one of the more prominent educators in the formative years of Hawai'i's Department of Public Instruction (Department of Education) was an African American woman named Carlotta Stewart Lai (1881-1952).
Born in Brooklyn, New York, Carlotta Stewart was the daughter of Charlotte Harris Stewart and Thomas McCants Stewart.  Thomas was born a Free Black in South Carolina and attended Howard University as well as the University of South Carolina, from which he received his undergraduate degree in 1875.  He first practiced law in Orangeburg, South Carolina and worked with Black Congressman, Robert Brown Elliott, then moved to New York.  His many accomplishments after leaving the South ultimately included: civil rights attorney and political leader, columnist for the New York Freeman, author of the legal code of Liberia, and brief stints as professor at the College of Liberia, and justice on the Liberian Supreme Court.  In 1898 Thomas moved his family to Honolulu.  He is recalled as having represented Native Hawaiian and Chinese clients and was involved in drafting an early charter for the City and County of Honolulu.  In 1905, however, he decided to relocate the family to London.
Carlotta had been educated in the Brooklyn public schools and attended Oahu College (Punahou), graduating in 1902 with a degree in English.  She was among the first group of young women who acquired Normal School certification—a requirement of the newly created Department of Public Instruction—and embarked on a career in public education instead of moving with her family to Europe.  Her first assignments were as an English teacher in the Honolulu schools.  She was then promoted to principal of Ko'olau Elementary School in 1909 as part of the department's reforms and moved from O'ahu to Kaua'i.  The school had a student population that was ethnically diverse and included Native Hawaiians, Japanese, Koreans, Filipinos, Chinese, Portuguese, and a small number of Euro Americans.
Like some of her counterparts on the U.S. mainland, the Caribbean and Latin America, Stewart married Chinese in 1916.  Her husband was Yun Tim Lai, five years her junior, and the sales manager of Garden Island Motors, Ltd., a local automobile dealership that was located in Lihue, Kaua'i.  They were married for 19 years until Lai's untimely death in 1935, which occurred while visiting family in Hong Kong.  Stewart did not remarry and unfortunately the couple had no children.  She continued her work as an administrator with the Kaua'i schools through her retirement in 1944, and died in 1952.
Albert Broussard, a professor at Texas A&M University, produced a biography for Carlotta Stewart Lai (1990), followed by a book on her family entitled, African American Odyssey: The Stewarts, 1853-1963 (1998).  One of the interesting details that Broussard related about her was that among the many pastimes that she enjoyed in Hawai'i during the 1910s and 1920s–was surfing.  Attesting to this not having been an isolated occurrence was correspondence that Broussard found which Stewart had penned to friends as well as to Madame C.J. Walker in 1926, requesting advice on hair care following repeated exposure to seawater.  This too might appear insignificant except for the fact that the first recorded African American surfer is a Santa Monica resident named Nick Gabaldon (1927-51) who started surfing in the mid-1930s.  Obviously more research needs to be conducted but if Broussard's finding is true, then Carlotta Stewart, an African American educator in Hawai'i, would be the first recorded Black surfer in the United States.
Although African Americans never exceeded one percent of the population until after WW II, Hawai'i's history is filled with significant Black women and men.  Much of our knowledge about them comes from research that was begun in 1980 by Miles Jackson, a professor at the University of Hawai'i, and two books that he wrote: They Followed the Trade Winds: African Americans in Hawai'i (2004) as well as And Then They Came: A Brief History of Blacks in Hawai'i (2001).
There are teachers and writers; members of the clergy; soldiers, sailors and cowboys; attorneys, judges and legislators; as well as nurses, physicians, and scientists. The most notable woman in the latter category was Alice Augusta Ball (1892-1916), an African American chemist, the first Black woman to receive an MA from the College of Hawaii (University of Hawai'i), and whose research into the properties of Chalmoogra oil produced a treatment for Hansen's Disease (Leprosy).  Unfortunately, her sudden death at age 24, caused her work to be credited to a Euro American professor, and she remained virtually unknown for 91 years. Ball's achievements were finally recognized by the University of Hawai'i in 2000, following research that was conducted by another African American professor named Kathryn Waddell Takara.  Professor Takara started her investigations into the history of Blacks in Hawai'i in the 1970s.
Beyond two volumes by Jackson (2001, 2004), biographies, research guides, pamphlets, and oral history interviews by Takara (1976, 1986, 1987, 1990), and another book by Guttman and Golden (2011), there is little published on the African American experience in the islands.  By comparison, a plethora of literature and on-line material exists for most of the other ethnicities that comprise Hawai'i's diverse population.  Educating the general public and getting the information into the schools are among the presumed objectives that the supporters of Bill 194 hope to achieve. The concluding language of the bill notes that, "Little is known or preserved due to a lack of understanding and racial divides.  Recognition of the contributions of the African American people and their culture is important to the promotion and awareness of Hawai'i's diverse and multicultural society."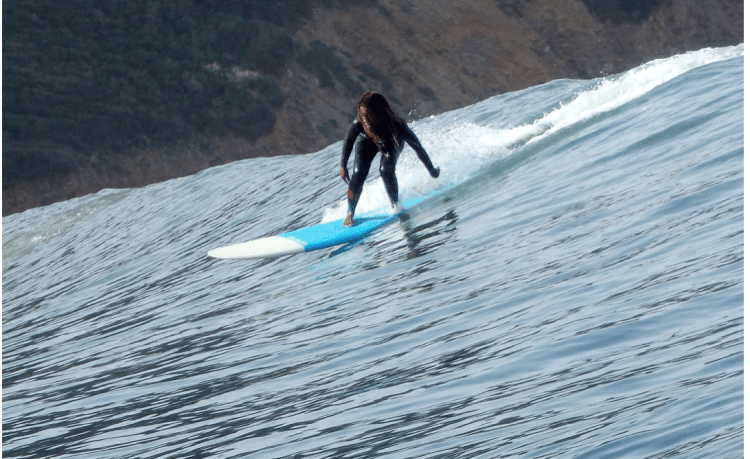 Surf Sistah riding a wave. Courtesy dropzone.easyreadernews.com
In the footsteps (or more appropriately, the waves) of Carlotta Stewart Lai, in 2007, a forty-something African American woman in LA (and a single mom) after surfing for five years, started a blog called "surf sistah" that is still on-line in 2015.  Seven years after she began, another Black woman, this time a historian named, Alison Rose Jefferson, initiated a public awareness campaign about the history of "Jim Crow" laws on beaches in Southern California (SoCal) and their de-segregation during the 1960s.  She also recently profiled a group of young African American women from Claremont University in a blog titled, "Celebrating the California Dream: A Look at Forgotten Stories," who were learning to surf in 2013.  Their instructors, William Lamar and Remy Smith, described them as the "most fearless and athletic young [women they] had ever taught" and "incredibly fast learners," respectively.
Hawai'i is the birthplace of surfing and in ancient times, the sport was the favorite pastime of Hawaiian women of royal lineage, before it was condemned by Euro American missionaries as a "pagan practice" and largely abandoned following their arrival in 1823.  In the early twentieth century, however, interest in surfing was popularized by Duke Paoa Kahinu Hulikohola Kahanamoku (1890-1968), a Native Hawaiian, Olympic gold medalist (1912, 1920), as well as film actor, and sheriff of Honolulu.  Given the history of the sport and challenges for African American female students in a number of Hawai'i schools, perhaps it is time to invite some "big sistah surfers" from SoCal to take their "little sistahs" out and "catch some waves." Then we should ensure that they, along with their classmates, teachers, administrators, and the general public know about the achievements of Carlotta Stewart Lai and all the other significant African Americans in Hawai'i.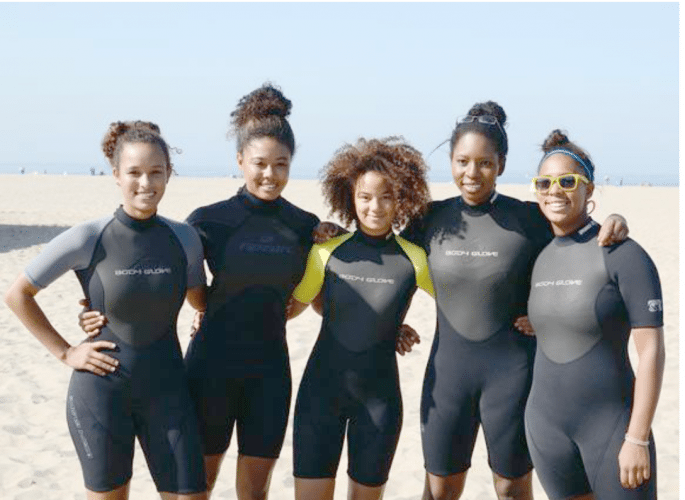 Some of the Claremont University student surfers on the beach.
Courtesy alisonrosejefferson.com 
There's more to come about your Afro-Asian roots in the Pacific and Caribbean during Asian American and Pacific Islander Heritage Month in May 2015.  
Sources:
Broussard, Albert S.  "Carlotta Stewart Lai, a Black Teacher in the Territory of Hawai'i."  Hawaiian Journal of History, Vol. 24: 129-154.  Honolulu, HI: Hawaiian Historical Society, 1990.
https://evols.library.manoa.hawaii.edu/bitstream/handle/10524/522/JL24135.pdf  Accessed 19 February 2015.
_______.  "Lai, Cloretta Stewart (1881-1952)."  blackpast.org.
https://www.blackpast.org/aaw/lai-carlotta-stewart-1881-1952  Accessed 19 February 2015.
_______.  African American Odyssey: The Stewarts, 1853-1963.  Lawrence, KS: University Press of Kansas, 1998.
Daniels, Gabriel.  "Black Surfers? It's Not Just a White Thing. 'Whitewash,' Black Surfing Documentary [by Ted Woods] Narrated by Ben Harper and Black Thought of The Roots Now at Hulu."  https://thisblksistaspage.wordpress.com/2011/12/13/black-surfers-its-not-just-a-white-thing-whitewash-black-surfing-documentary-narrated-by-ben-harper-and-black-thought-of-the-roots-now-at-hulu/  Accessed 19 February 2015.
Guttman, D. Molentia and Ernest Golden. African Americans in Hawai'i. Charleston, SC: Arcadia Publishing, 2011.
Hairston, Kimetta R.  "Dehumanization of the Black American Female: An American/Hawaiian Experience."   Spaces for Difference:
An Interdisciplinary Journal, Vol. 1, No. 1, pp. 63-85.  Santa Barbara, CA: University of California at Santa Barbara, 2008.   https://www.escholarship.org/uc/item/72m382mk#page-21
_______.  "Somewhere Under the Rainbow:" The Interplay of Race and Gender, African-American Military Students' Experiences in Hawai'i Public Schools. Manoa, HI: K. R. Hairston, 2004. (for an online copy of the author's PhD dissertation see below)
https://scholarspace.manoa.hawaii.edu/bitstream/…/uhm_phd_4479_r.pdf?
Jackson, Miles M.  They Followed the Trade Winds: African Americans in Hawai'i.  Manoa, HI: University of Hawai'i Press, 2004.
_______.  And Then They Came: A Brief History of Blacks in Hawai'i. Durham, N.C.: Four Gs Publishers, 2001.      
Jefferson, Allison Rose.  "Celebrating the California Dream: A Look at Forgotten Stories,"  "Black Surfers Made the Claremont Colleges New Student
Retreat 2013-14 A Standout Success!"  https://alisonrosejefferson.com/2014/02/18/black-surfers-made-the-claremont-colleges-new-student-retreat-2013-14-a-standout-success/#more-884  Accessed 19 February 2015.
Reft, Ryan.  "Surfing for Freedom: Black Surfers and Reclaiming Cultural History in Los Angeles."  KCET, April 24, 2014.
https://www.kcet.org/socal/departures/columns/intersections/surfing-for-freedom-black-surfers-and-reclaiming-cultural-history-in-los-angeles.html  Accessed 19 February 2015.
Saltz, Rachel.  "Breaking Barriers to Ride the Waves."  New York Times, September 22, 2011.  https://www.nytimes.com/2011/09/23/movies/white-wash-a-documentary-about-black-surfers-review.html?_r=0  Accessed 22 February 2015.
Stalder, Candice. "Surf Sistah Goes Ricta-!"
https://dropzone.easyreadernews.com/surf-sista-goes-ricta/  Accessed 19 February 2015.
Takara, Kathryn Waddell, and Warren Nishimoto.  Life Histories of African Americans.  Manoa: Center for Oral History, University of Hawai'i at Manoa, 1998.