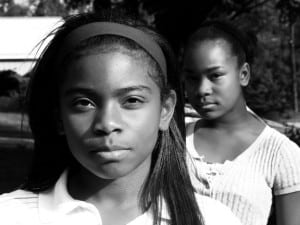 A Rock Hill, South Carolina teenager contacted the police after being attacked by two hood boogers for "acting too much like a white girl." Yes; this happens. Speak in proper English, know who your father is, or worse, have a dad that lives with you, get good grades, and you'll be a target for a beat down.
The victim, 16, told police that after getting off the bus on McDow Drive she was punched several times before the female assailant fled, the report states. The claims were corroborated by witnesses interviewed by responding officers, a Rock Hill police report states.

Officers found the victim had injuries to her head, shoulders, and a cut above her right eye. Her injuries required her to be taken by ambulance for medical treatment.

The victim told police she has had a problem with the assailant for at least a year. The victim said because she is "light-skinned black female," the assailant, also described in the report as a black female, taunts her and tries to pick a fight but the victim refuses.

In the Thursday incident described as both assault and battery and disturbing school/disorderly conduct, the victim told police she again refused to fight the assailant.

Police attempted to locate the alleged assailant Thursday but had not found her, the report states. The investigation remains pending.
So it also looks like the aggressor is also punishing the victim for having lighter skin than she has. I know we talk a lot about colorism in the black community, and when light-skinned women try to talk about instances of their own negative experiences, many of us don't want to hear it. But to be fair, such an attack should be equally condemned. No child deserves to be punished over something he or she has absolutely no control over. I understand why the dark-skinned girl might be more angry, more aggressive, more miserable than the girl she beat up, but understanding does not equal absolution.