When I saw this photo and caption for InterracialDatingCentral, I think about all the notes I've had in the past from black women who have expressed concerns that men of other races may not want them because they have "full black" children.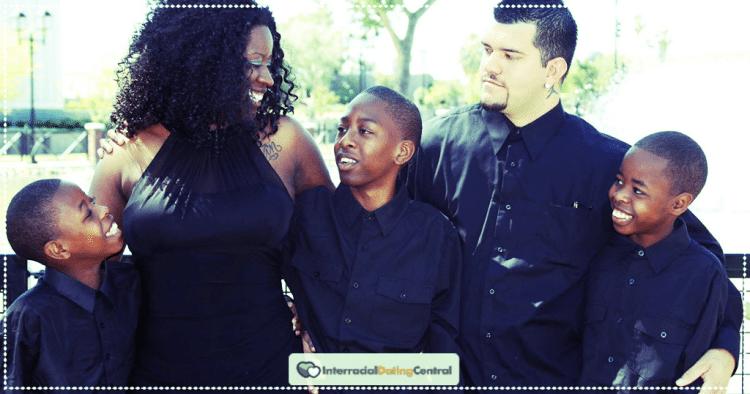 "I met my husband when he was 20 and I was 25. He met my kids first and loves them like they are his. It's been wonderful.
This man is the only person who came into my life to help me and not hinder me or my boys. He jumped from his crazy, gang banger, no job ever, street hustler world into my crazy, but won't leave me alone, a single mother working two jobs world where he became a suburban husband, father. and provider."
Story by Janelle Norris
I'm also reminded of one of my favorite You Tube families, Greyed Acres.
I love how candid and honest these boys were in how they viewed their stepfather and themselves as young black men. This is a definite LISTEN.
However, I have to be honest–a man taking on a black woman with black sons is a BIG roll for a non-black man to fill. Not all of them will want to take that on. But our hats are off to those who do.
On a sidenote, it's February. Time to remind you that nothing is going to happen in your love life unless you get out there and make it happen. The blog recommends InterracialDatingCentral.com. Don't forget to subscribe to our You Tube Channel. Tomorrow we're covering how some complete blow the opportunity to shine on their online dating profiles.