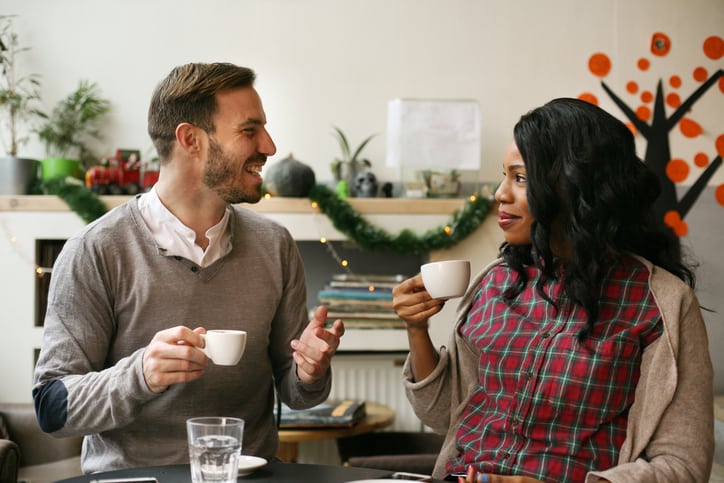 By: Carrie Thompson
Was he, afraid, to touch me? I can make him.  It is time.
When *Trevor laid eyes on me, he always maintained a safe, gentlemanly distance. Until the warm night of Thanksgiving, on the Silverlake reservoir… He sat me on top of his Fender amp and wheeled me close enough to feel his cadence… His hand hovered my knee, he pursed his lips to speak…
Back in February, Trevor and I met on an app, not a dating app, surprisingly. It's called Shapr, for locals with similar ambitions to meet up for coffee or whatnot, projects. I had met at least three other men from this app and they were all passionate, smart, and positive additions to my circle. And good looking. I was hooked.
While it was a swiping situation, I don't remember agreeing to meet a guy outside my industry of film-making and creative finance. Trevor was a trained, classical composer working as an engineer, who loves all things music. Jazz is a shared passion of ours. We made it a point to discuss hip-hop, "but I hate how it becomes a Tupac versus Biggie argument every time as if they're the only fucking bubbles on the scantron…" I said as we ate our vegan pasta at Wild Living Foods in the heart of the Downtown LA metropolis. He travelled to my downtrodden, back alley of the world. Trevor replied, "I've studied the composition of hundreds of cultures, there is no argument from me. I think all things can be equally beautiful, enigmatic, or similarly disappointing."
We both hail from the Eastern-seaboard region, he from the heart of Baltimore, and I, Virginia. Because he was from arguably the most dangerous city in America, I knew I didn't get the vehement denial of a racial issues (cough, cough Bryan). He was awake to the current state of the world, but secure in his own whiteness, that he didn't need to shoulder the burden of every person that ever looked like him: a goofy smile, messy brown with a touch of grey. Frosty blues. Even in an 'off-its-meds' place like LA, it was nice to meet someone who just 'gets' your upbringing. A sense of comfort came over me, just being near him.
Six-months sailed on by, yet we hadn't seen one another. Trevor moved from Echo Park to Silverlake and now had a very nice place for himself. We spoke sometimes, via text, but I'm not a fan of texting. It's cold and impersonal. Texting doesn't denote mood and it's easily misconstrued. Occasionally, I wondered how he was, but I didn't find the unction to initiate anything further.
A lot of things had changed for me in the 7-months that we were apart. I was and am now a 100% self-employed entrepreneur at thirty. I have my own bookkeeping service and with 2 clients, I fully support myself under an LLC. (go me)! As a Cost Accountant and Consultant for a high-end fashion retailer Downtown and simultaneously run cost reports for a privately-held Production Company in Malibu. With the most money I had ever been blessed to make, I also was dealing with so many demands and bitchy, self-absorbed personalities. After work, I sat alone in my car, basking in the serenity of the Canyon night. Coyotes howled, the salt-air carried the wildfire smoke down toward the 405. My bluetooth rang: Trevor was actually calling me?
You know that awkward lull between the time you see the caller ID and how your emotions register to said caller? The face you make when you decide whether-or-not to roll the call to voicemail? I didn't have that feeling. I answered quickly to Trevor's most pleasurable disposition. Happy or surprised I answered. Both?
I didn't want to unleash my barrage of psychopathy, so I gave fake, one-word responses. Things are 'cool' or 'great.' Trevor sensed my disingenuousness and replied, "do you want to come over and talk about it?" That's exactly what happened, nothing more.
I came over to see his super cute apartment with his own recording studio inside. And it's not some janky set up, the lights and moving knobs were like walking into a space ship. Best of all, his vinyl collection, which I quickly rifled through. Trevor unwrapped a USPS envelope, revealing a vinyl: "As Sweet As Broken Dates: Music from the Horn of Africa." I noticed a lot of worldly music, Trevor had a genuine adoration for all things Caribbean and African, musically at least.
I divulged, the big heaping stress-turd of new job pettiness and just genuine confusion about the direction of my life. As we ate his vegan, jackfruit nachos, he listened intently with ears and body language. As I finished complaining, he didn't give a shred of advice, just a soft and available smile. Somehow, it was all I needed. Hadn't I ever noticed how good-looking he was?
From that moment forward, we began seeing each other weekly, sometimes three visits. Trevor had only been in Los Angeles for short of a year. He told me that I was one of the first few he had met. He said something kept bothered him why he hadn't made an effort to see me more. What that something is, I'll never know. At the age of 35, and his first year in LA, I naturally asked what his plans were for Turkey Day, which he replied, "probably a Chinese restaurant." Absolutely not.
I invited him to a 'Nigerian friendsgiving,' a few close friends and some new. Trevor quickly divulged his knowledge of the tribal unity and discord, oil and electrical issues that plague the nation. I noticed that everywhere I took him, he fit seamlessly into my life. Afterward, we went to see Disney's "Coco," which he had no idea existed, nor that it was about Mexican culture/music. Obviously, Trevor was beyond stoked. I cried like a bitch at several points during the film, he noticed and didn't tease me.
Trevor had been giving me 'the eyes' all day and night but wouldn't pull the trigger. Maybe a little gesture, that it was okay to move in closer… At the end of the night, we retired back to his Silverlake sound oasis. Atop the Fender, I crossed my legs harder than Sharon Stone in Basic Instinct. He rolled the speaker closer into him and I'll never forget his simple words:
"What just hit me? I have such an amazing time with you, you're genuinely happy, appreciative, and being around you makes me the same way. You're gorgeous and I really, really like you."
With his warm hand on my thigh, Trevor's words were fluid, intrepid, and best of all, certain. He was convinced. Finally, fingertips danced up my arm making soft rotations – his love language was that of touch. Trev leaned in and kissed me softly, his lips, were like cashmere wrapped in a goatee surround. Spotify coincidentally began my favorite song, "Dissolved Girl," by Massive Attack. The song's melody plunges from mundane to darkness. This descent, was evident in motive and of our bodies. I uncrossed my legs.
Leaning far back over the flashing lights and thumping subwoofers. My curves send records sharply crashing and angling toward the ground. Trevor digs his face into the hollow of my neck and between my breasts, generously planting kisses, all the way down. My small leather skirt crept higher and tighter as my legs spread wide. The light of his hands explored the depths of my thighs… He lowered me off the amplifier. I was about to use my femininity to turn him into his most primal self. Say my FUCKING name Trevor…
My panties were soaked, he was throbbing, and it looked like a nice, long, ride. But we stopped. I didn't want our first time to be just like any other. Every other. But if I had to be completely honest, it was more him. He wrapped me in a blanket and worked on music for the rest of the night in the living room. No penny, no blowie. Just a heated make-out session.
Though we haven't been together long, I've met his available family on the west coast. Trev says that he didn't want to drive over 150 miles to NorCal to greet the Rednecks alone. They were shocked I wasn't white, I could tell, but isn't that how it feels to walk in every room as a Black woman? Meeting Uncle Danny was fun, especially the drinking all his liquor part, which instantly his approval. Glad I didn't do that whole "proper negro" move which wouldn't have changed the minds of the Trump-supporting lot.
In such a short time Trev and I have been rather transparent. I've told him about my slutty albeit numerous conquests, the guys I mentioned or forgot to, as a contributor to BB&W… And asked his opinion on reporting our highs and deltas. Trevor says, "No way I was moving to the biggest and best city in the world to date a white girl. Just change my name and I don't want to talk to anybody about it." I know how much he makes, pays in rent, and he buys my super+ tampons. He's sleeping beside me as I'm writing this, and I'm falling in love with him all over again with every keystroke.
Could it be? Maybe, our careers needed to advance a bit for our stars to align? Maybe we are both the same brand of crazy, which in LA isn't that crazy? Maybe I needed to find another small-town boy to talk shit about small-towns with? Maybe it wasn't me this whole time?! But you guys wouldn't believe that anyways. Everyone just needs someone to demonize so their past isn't as shady.
Come decide for yourselves! I'd love to meet the keyboard triage crowd at Christelyn's super-secret meetup in my neighborhood. Give your 'diagnoses' on all my bed-hopping and flopping! Hope you'll deliver fiery edicts on my lunacy with the same tenacity you do online ☺.
I've also invited some successful and attractive men, but they'll be sprinkled in the crowd. Come meet Trevor and I and a few of our IRR friends.
Blessings BB&W! I know you don't believe me, but I really do love you!
*Trevor is not my boyfriend's real name, obviously.