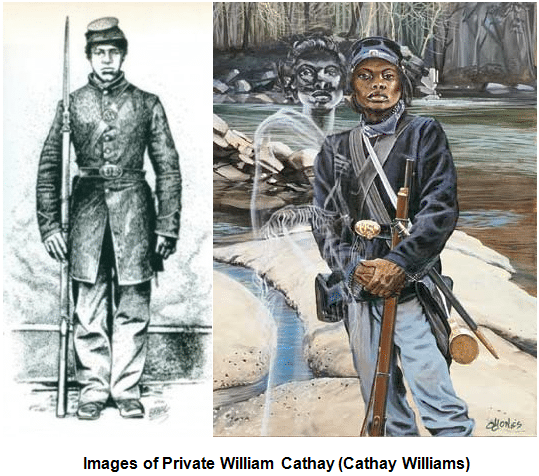 Private Cathay Williams was the only woman to serve in the US Army as a Buffalo Soldier. On November 15, 1866 she enlisted in the Army as a man. Williams reversed her name William Cathay and lived as a male soldier and served until she was found out due to the last of many illnesses she suffered while a serving. She is the only documented black woman known to have served in the Army during these times when enlisting women was prohibited.
Born in 1844 in Independence, Missouri, Williams was a slave as was her mother but her father was free.  She would work as a house servant on the Johnson plantation near Jefferson City.  By 1861, Union forces occupied Jefferson city in the beginnings of the American Civil War.  Slaves were considered "contraband" (they were property remember) and at age 17, Williams was impressed into serving.  She served the 8th Indiana Volunteer Infantry Regiment which was commanded by William Plummer Benton.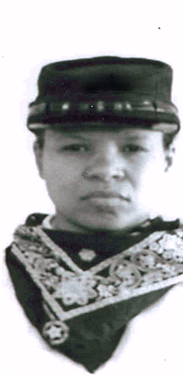 During her time with the 8th Indiana, Williams would have see action on the battlefields and been introduced to uniformed Negro regiments.  This may have inspired her to enlist once the war ended.  Williams knew that women were prohibited from serving in the military, but having been transferred to Washington DC, she may have been told stories about women passing themselves off as men to fight and serve.  Who knows what her true inspiration was?  What we do know was that Williams enlisted in the United States Regular Army on 15 November 1866 at St. Louis, Missouri for a three year engagement, passing herself off as a man. Only two others are known to have been privy to the deception, her cousin and a friend, both of whom were fellow soldiers in her regiment.
Cathay Williams was plagued with illness after illness during her 3 year enlistment.  Shortly after signing up, she contracted smallpox and hospitalized.  She recovered well enough to rejoin her unit, which was by then was posted in New Mexico.  It was quite possible that the effects of smallpox, the New Mexico heat, and the cumulative effects incessant marching for years, William's health began to decline.  She was hospitalized several times.  During the last illness, an Army surgeon finally discovered she was a woman and she was outed.  The surgeon informed the post commander and Williams was discharged from by her commanding officer, Captain Charles E. Clarke on October 14, 1868.  What took them so long?  She must have not had to fully undress the entire time or maybe refused under some kind of ruse.  Whatever the reason, she successfully passed for 3 years.
Years after leaving the Army, Williams served as a cook in Fort Union, New Mexico. From there she made her way up to Pueblo, Colorado where her mother Martha Williams ran an orphanage.  Williams also married a man who stole her money and horses and after having him arrested, the marriage ended. Sometime in 1872 Williams found herself in Trinidad, Colorado where she lived the rest of her life from what we can tell. She was a cook, seamstress and nurse. I wonder if she walked the same paths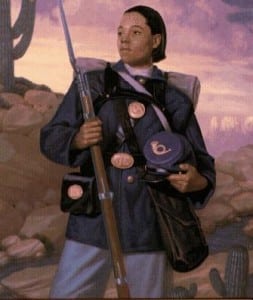 as Kit Carson. Could she have mingled with Wyatt Earp and his brothers, or Doc Holliday? Maybe Williams even crossed paths with Bat Masterson as they all lived in Trinidad at the same time. Now the Army recognizes and honors Cathay Williams but as with many other blacks she was mistreated. Although suffering from neuralgia and diabetes having had all her toes amputated she was denied a pension.
Having served as a man should not have been a factor and she should have received the pension like white women Deborah Sampson, Margaret Corbin and Mary Hays McCauley did. Cathay Williams had no one to fight for her pension rights and therefore got nothing. Little is known other that than Williams left Trinidad and moved just across the border to Raton, New Mexico where she ran a boarding house until she died in 1924.
It would be nice if the Army awarded that pension posthumously to living relatives in the form of a grant or dedication to a charity in Williams honor. She didn't even realize that she was carving out her own little piece of a American History.  Funds are being raised to produce a work of art dedicated to Private Cathay's memory.  Can't wait to see it!
_____________________________________________________________________________________________
Note: This picture on Wikipedia is not thought to be Cathay Williams' but actually her mother Martha Williams.  Martha Williams was a matron at the Lincoln Colored Home and Orphanage .  Today the Lincoln home is a joint museum with the Martin Luther King Center and is presently located at 2713-2715 N. Grand Ave. Pueblo, Colorado 81003.  Notice the outhouse in the middle of the bottom picture.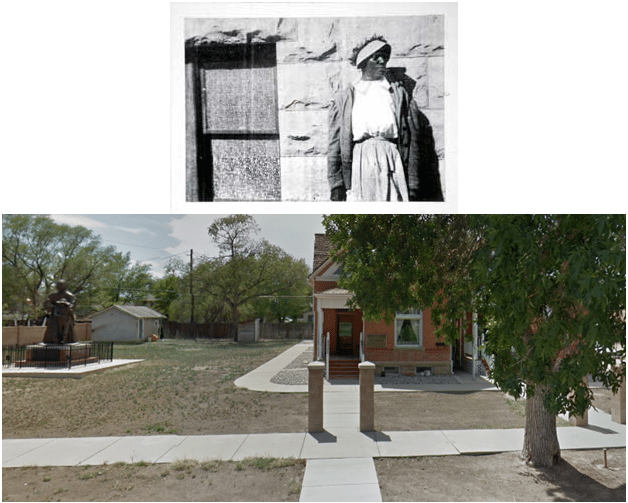 Cathay Williams Slave to Female Buffalo Soldier by Tucker, Philip Thomas.
Female Buffalo Soldier with Documents (Enlistment, discharge, pension request, denial for Dept. of Nat. Archives)
Poem Dedication to Cathay Williams by Linda Kilpatrick
Buffalo Soldiers Motor Cycle Club of Southeast Ilinois 
Buffalo Gal (Notable Woman Soldier Lived in Pueblo) Pueblo Chieftan notes that there are images and materials on display in the past at the Martin Luther King Center/Museum.