Today, we'll be speaking with Ted and Cheyenne, from Georgia. Many thanks to Khadijah for connecting us.  Ted decided to join us for part of the interview, so you'll get to hear from him too. Thank you both so much for speaking with me. 
What challenges have you faced?  
C: We haven't really had any problems at all. We're both so similar that we click so well. We rarely have arguments. We discuss things, but we don't have a lot of challenges. Our life is really great. We forget sometimes how different we are. When other people look at us and see how different we are, we wonder what they're looking at. That's when we remember how different we are.
What is your favourite memory together?
C:In the beginning, I was more guarded. The first date, he was very serious. I'm more silly in general, so I wasn't sure if it was going to work out. I took him to something really strange on the second date and he really enjoyed himself. That really put me at ease.
C:The more I spent time with him, the more I could sense this huge amount of joy in him. I thought that this experience was the best. I figured that we could at least be friends, even if don't date each other.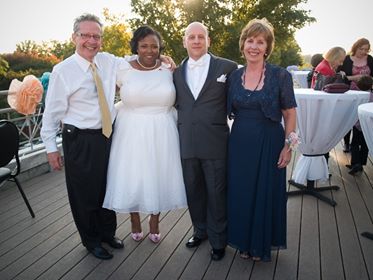 How do you deal with difficult times?
T: If there are any issues, we like to keep communication open and talk in depth about it.
C: Sometimes, I need a moment to cool off and get my thoughts together. 
T: Cheyenne likes to tell me that sometimes I should just listen instead of offering solutions.
How has your family reacted?
C: My family told me that they always knew I would end up with a white guy. I tried to ask them why, but they never gave me any details.
T: My parents were fine about it. I told them all about her before they met. I also have an uncle and aunt in the area; they get along well with us. Uncle Joel was fine as well. As for my mom's side of the family, I haven't seen them in a while. I'm not sure how they would react. Some of them might be apprehensive.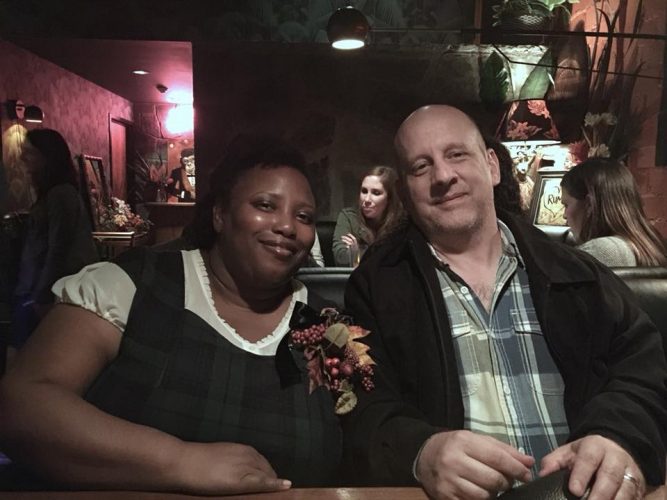 How have your friends reacted?
C: It's a non-issue. Our friends group is like that United Colours of Benetton advertisement from the 80s. It's so diverse. 
T: I have a friend who is married to a black woman. Our personalities are so similar.
Was dating interracially a new dynamic for you?
C: It wasn't new for me. 
T: I dated black women before, but it was usually one date.
What are some of the expectations you had before your relationship?
T: I try not to go into these things with too much expectations. I was looking for a kind and stable person with no high drama. I'm pretty easy going and open to new things and personalities. As long as we're respectful to each other, I'm fine with that. 
C: I had a list of what I wanted. My most important requirement was that he must be weird. I met people who didn't enjoy comics and odd movies. It wouldn't have been a good fit. I needed someone to enjoy life with. 
T: We do a lot of things together. We go to conventions, enjoy Japanese street fashion, comics, and things like that. 
Looking back on some of those expectations, how have they changed now?
T and C: Things have pretty much stayed the same. We suit each other really well.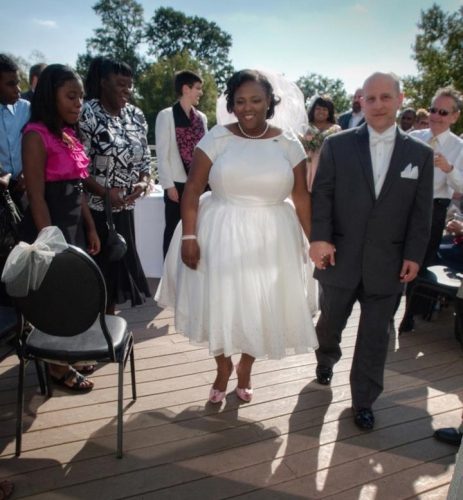 What are some of the things you do to keep your relationship growing?
T: We try to do things together, like going to a museum or a festival. 
C: We'll hang out with each other's friends sometimes.
What advice would you give to others?
C: Try to meet someone who gets your groove.
T: Compatibility is really important. It won't work out if that's not there. Don't rush things. Make sure you really fit together.
Is there anything else you would like to share?
T: Some people might give you odd looks. Try not to take it personally. They might be looking at you in a bad way, but maybe not. A lot of people might just be people watching. Interracial relationships are becoming more common, but they are still pretty rare. I don't always think of it as a negative thing. It depends on the facial expressions. 
C: It depends on what type of town you live in – the main city versus the suburbs. Reactions are different wherever you go.
Thank you so much for reading this interview! That is the end of this couple's feature. If any of you are interested in participating in this series, please leave a comment below or connect with me or Christelyn Karazin. You can e-mail me for an interview at [email protected].