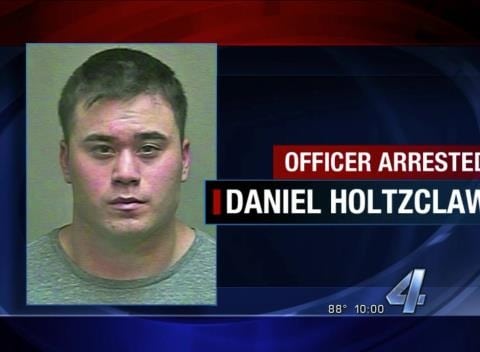 Like many of our readers, I have been monitoring the story of the Oklahoma police officer accused of sexually assaulting eight black women. After weeks without news, I came across this Buzzfeed article from last month. This section stood out to me:
 Oklahoma NAACP President Anthony Douglas first learned of the Holtzclaw case on Thursday, Aug. 21 — the day Holtzclaw was arrested — while at a rally showing support for the people of Ferguson, who were still protesting the death of Michael Brown and the Ferguson police's display of force in response to their protests. Local media began calling for Douglas' reaction to the Holtzclaw case. On the heels of the Ferguson, Douglas prepared for a storm. But it never came.
 "Where's my media and where's my women's groups?" he asked BuzzFeed News on Thursday.
Douglas said Ferguson had no impact on how he approached the Holtzclaw case, but the media spectacle in Missouri made him examine how the media was "not providing the coverage as it should be brought to light." Douglas' contribution to the mostly local coverage has been to call for the Department of Justice to "look at whether this fits a pattern of racial profiling." The president views Holtzclaw's targeting of black women as a hate crime.
 "[People] have not grasped the severity of the case," Douglas said. "I don't look at this gentleman as a sex offender or a rapist. I look at him as a racist, because he racially profiled and targeted African-American women."
It appears that Douglas followed up by formally requesting the Department of Justice to open an investigation. And his comments raise a good point. In an era where banners are being flown over NFL stadiums regarding domestic violence being committed by players and congressional hearings are being held about sexual assault on college campuses, where's the scrutiny on sexual assaults perpetuated by officers of the law? A quick google search revealed officers all across the country accused of assaulting women while on duty:
https://abcnews.go.com/US/wireStory/tulsa-sheriffs-deputy-accused-sexual-assault-25557139
https://www.suntimes.com/news/4602321-418/cops-accused-of-sex-assault.html#.VByUQfldXbo
https://www.wfaa.com/story/news/crime/2014/08/20/14162700/
https://5newsonline.com/2014/08/15/fired-fayetteville-officer-pleads-guilty-to-sexual-assault-gets-5-years-probation/
https://www.truth-out.org/news/item/24677-police-departments-ignore-rampant-sexual-assault-by-officers.
https://www.thenation.com/blog/181365/police-violence-we-arent-talking-about#
On the heels of abuses at several women's prisons (arguably the most vulnerable women of all), what exactly is NOW doing in response to this epidemic? Or does Gloria Allred only show up when a huge payday is involved – are poorer, black women unconnected to wealth not good enough?