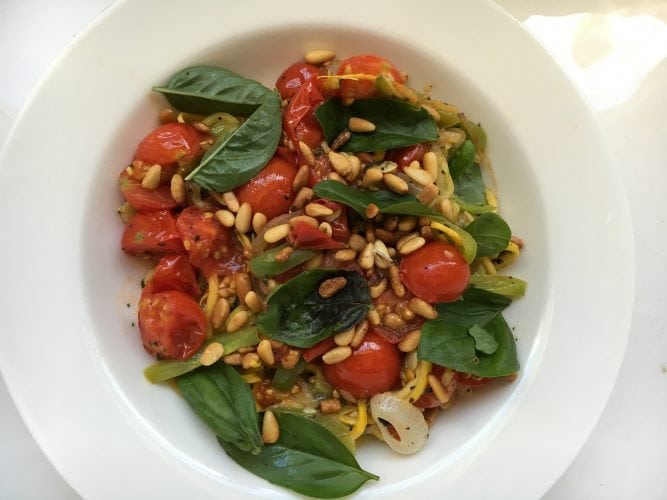 One of the most rewarding parts of growing my own food is being able to enjoy the bounty from garden to kitchen immediately. The benefit is obvious–you get fresh, nutritious produce immediately so there's less loss of vitamins, minerals and antioxidants.
People are always complementing me on how my skin glows, but it's not just topical creams and potions and make up trickery. It's what goes inside that counts the most.
I try to make the majority of food that I consume daily to be mostly comprised of raw or minimally processed fruits, vegetables, and nuts. Not only do these vegetables hydrate my skin, the vitamins and antioxidants these delectable items contain leave their mark on my health, hair, and skin.
The meal you see before you, spiralized zucchini, with onions, Bell peppers, and cherry tomatoes, topped with basil and pinenuts was a happy accident. My husband's coworker, who also has an organic garden, Had a bounty of zucchini and was giving them away. I had tons of sweet peppers, basil, and tomatoes to spare, So I thought that gently sautéing this mixture would make for a delightfully filling, low calorie lunch.
Definitely try this at home!
Ingredients
Olive oil
Sea Salt (to taste)
One medium to large crook necked yellow zucchini squash (regular green squash works just as well too); spiralized
half a medium onion, sliced
small sweet pepper, chopped
2 cloves garlic, chopped
about 8 cherry tomatoes, halved
handful of basil leaves
handful of pine nuts, toasted
Instructions
Heat up the olive oil in a large skillet on medium heat to about 350 degrees
Add the chopped garlic and saute until lightly browned and fragrant
Add the onions and sweet pepper and saute until onions and peppers go slightly limp
Add the spiraled zucchini and stir fry for about two minutes. Remove from heat and transfer to a pasta bowl. Top with basil leaves and pine nuts, add sea salt to taste.
https://www.beyondblackwhite.com/food-get-glow-spriralized-zucchini-veggies-pine-nuts/
This is the tool I use to spiral my zucchini…