Written By Saran Lawson
If you were a fan of the hit short-lived reality show, Tamar and Vince, then chances are you have become acquainted with LaShawn and his wife April Daniels. However, the truth is you were probably introduced to the hit songwriter way before then through his music. There is an old saying that a good songwriter should be seamless in the music. This means that when an artist sings a song you should only hear the artist and not the person who wrote it. Few people have mastered this art like LaShawn Daniels. So much so that you have more than likely sang his songs in your hairbrush without ever knowing he wrote them all. He is responsible for hits sang by Whitney Houston, Beyonce, Michael Jackson, and Jennifer Lopez. 
In June Lashawn opened up about, Say My Name, a track he had written with Rodney "Dark Child" Jenkins who he worked closely with. He explained to the Recording Academy, The Grammy award-winning song was inspired by a past relationship he had. 
"I would be places, I would be at work and if [my girlfriend] would call or hear anyone laughing, or speaking, or doing anything in the background, she'd be like, 'Who is that?'", he explained. 
Lashawn is also responsible for songs like Tony Braxton's He Wasn't Man Enough, as well as Michael Jackson's You Rocked My World. Daniels co-wrote Telephone by Lady Gaga and Beyonce. He is even responsible for The Boy is Mine sang by Brandi and Monica and Trap Gospel hit I Luh God, by Erica Campbell; The list goes on.
Tuesday night, Daniels received an outpour of love and condolences from music vets such as Bryan Michael Cox who took to Instagram to say: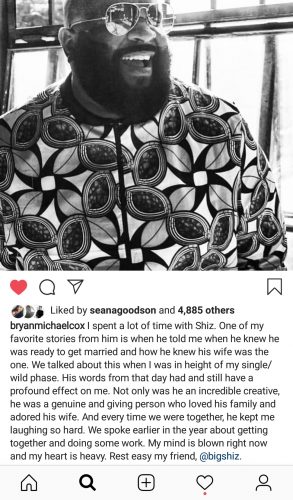 "I spent a lot of time with Shiz. One of my favorite stories from him is when he knew he was ready to get married and how he knew his wife was the one. His words from that day had had and still have a profound effect on me. Not only was he an incredible creative, he was a genuine and giving person who loved his family and adored his wife. And every time we were together, he kept me laughing so hard. We spoke earlier in the year about getting together and doing some work. My mind is blown right now and my heart is heavy. Rest easy my friend, @bigshiz. 
His wife shared this message through Instagram: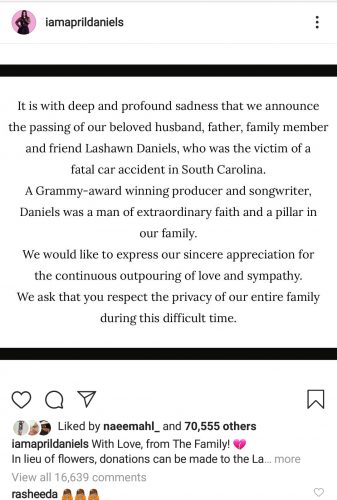 "It is with deep and profound sadness that we announce the passing of our beloved husband, father, family member and friend Lashawn Daniels, who was the victim of a fatal car accident in South Carolina. A Grammy Award-winning producer and songwriter, Daniels was a man of extraordinary faith and a pillar in our family. We would like to express our sincere appreciation for the continuous outpouring of love and sympathy. We ask that you respect our privacy of our entire family during this difficult time."
Lashawn Daniels publicist, Jojo Pada shared with CNN the details of his death. His wife April urges people on her Instagram post to donate to the Lashawn Daniels Memorial Fund on PayPal in lieu of flowers. The donations can be made at [email protected] .