On June 9 my partner in crime Adrienne London Leach and I decided to boldly go where few, if any interracial bloggers in the United States have gone before – we launched a podcast to accompany the blog over at TheSwirlWorld.com.
We run the blog and corresponding Facebook page, and decided we wanted to try my hand at podcasting.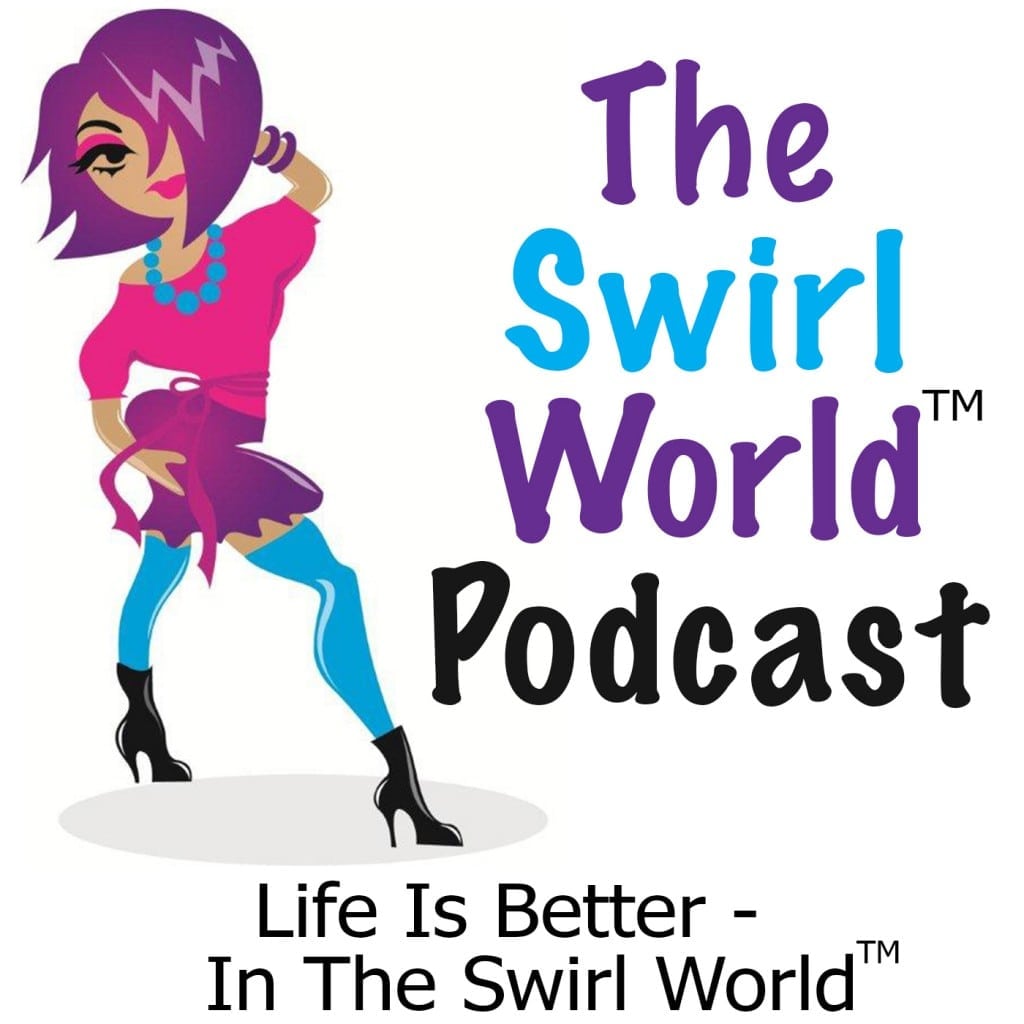 (Why not? After all, with a full time job, a daily 2-hour commute and aging parents I try to keep up with and look after, my very, very, VERY full plate was screaming for just one more thing).
What started as a whim has become a full-fledged endeavor.
We launched the podcast in June and as ambitious as I am, I have to say I'm impressed – not only with the results, but with the outpouring of support I've received.
*****And while I'm at this juncture, let me break from the regularly scheduled programming to say this:*****
Who says Black women can't and won't help each other??
I'm a firm believer in giving credit where credit is due, and I have to pause and give BIG, HUGE, GIGANTIC UPS to Christelyn Karazin, Blog Mistress of Beyond Black & White.
When I approached her about advertising on this site, she would have none of it – she said she'd be happy to post an announcement.
It takes a village to be successful – none of us get anywhere simply on our own. Someone has to read what we write, listen to what we produce and purchase what we make.
Black women are the biggest "village builders" in the world, and they are unparalleled for giving support and encouragement, and putting their shoulders to the wheel.
Unfortunately, much of this village building has not been for our own profit or edification, yet I believe the tide is turning – and it's turning for the better.
A generation of bloggers and content producers is rising up, and this "New, New Black Woman" doesn't mind giving a hand up to her fellow Sisters.
This New, New Black Woman doesn't feel threatened by other bloggers, because she knows there's room enough for anyone who wants to jump out there and make her voice heard.
This New, New Black Woman doesn't mind sharing her platform, because she knows that by giving a leg up to others, more BW-oriented spaces are created and sustained – and consequently, our collective voices are strengthened.
And for this, Christelyn, I thank you, and I salute you.
The Purpose Of The Podcast
The purpose of The Swirl World Podcast is to inform, inspire, educate and entertain by covering topics of interest to people involved in interracial and intercultural relationships. We make no apologies for focusing on Black Women and the non-Black men who love them.
To date we've posted almost 25 shows. Our good friend and fellow IR blogger Lorraine Spencer, known here on Beyond Black & White as "Swirl Queen" has appeared on the show.
In just a week or two, we'll be launching The Swirl World Podcast Men's Edition. Our Men's Editor, Mark Custard, will converse with non-Black men about the joys of dating and marrying Black Women.
Our First Celebrity Interview
Just this week we had the honor and pleasure of interviewing actress and producer Garcelle Beauvais – yes, the Garcelle Beauvais:
(photo of Garcelle) [Photo Source]
and actor/producer/publisher Sebastian Jones, who is as brilliant as he is easy on the eyes.
(photo of Sebastian) [Photo Source]
And, just in case you need to see a little more of this Man Candy (and let's face it – when will we ever see too much Man Candy?), you can view Seb's commercial reel:
Together, Garcelle and Seb are the authors of the "I Am Book Series," and graciously consented to interview with us for the podcast.
(photo of book cover) [Photo Source]
Book Two of the "I Am" Series will hit bookstores on August 19. Click here to purchase on Amazon & Kindle, Barnes & Noble & Nook and and iBooks (iTunes).
So Now, Please Check Out The Podcast!
All of the podcast shows are available on all the major platforms. You can listen and subscribe to the podcast on iTunes and Sound Cloud or listen to the show on Stitcher Radio.
We'd love it if you'd give us a listen on iTunes and be gracious enough to leave us a 5-Star rating. Feedback is always welcomed and appreciated!
Want to be a guest on the podcast, or know someone who should? If so, send an email to [email protected]. We're always looking for interesting people and topics! 
Photo of MMC
Michelle Matthews Calloway aka "ASwirlGirl" lives in The Swirl World. The only thing she enjoys better than reading is writing. She occasionally dabbles on Twitter, Instagram and Pinterest via the handle @ASwirlGirl.