I first heard about henna during my nascent natural hair days, and haunted psychologist/hair guru Curly Nikki. She raved about the virtues of henna, how it gave her fuller hair and less breakage. I smiled and nodded, but was always a big hesitant about applying a messy, pasty plant powder on my hair that could turn my entire forehead and palms a rusty-red.
That was years ago, and things in the henna world have evolved. Companies like OKAY Pure Naturals and Surya Brazil are offering a spectrum of henna shades with better instructions on how newbies can properly apply it. Both companies have complete henna-based products–from the actual coloring agent to shampoos and conditioners.
Why Naturals Might Want to Try Henna
Afro-textured hair is more porous, and the kinky or curly pattern are all points in which the hair can break. Normal wear and tear of styling can cause the protective layers of the outer layer of the hair to flake off, risking further breakage. The properties of henna work to fill in those gaps in the cuticle, and strengthens the hair while leaving a pigment that will last for several washings.
There are different types of henna products available, and the only "pure" henna is what probably comes to mind–that red hue. Any other pigments are additives. Some experts discourage the use of these, but I've tried them twice now, and my hair has thanked me for it.
My first try was with OKAY Pure Naturals Henna Longer-Lasting Hair Color. It comes in a foil bag and plastic gloves. The company claims it's natural, but sodium lauryl sulfate and barium peroxide has been added, so that's not really true. When I applied the powder I turned into a paste by gradually adding water, I let it sit for an hour, but the directions say two to three hours is optimal. It was message business, but I was able to manage. Rinsing was a mess, but there was no doubt that my hair felt stronger somehow…more…reinforced. The color set too and I was quite pleased. Over the next few weeks I gauged the amount of fallout and breakage, and there was a slight reduction. However, my hair did feel slightly hard…not dry exactly, but hard. However when I applied the OKAY Naturals Hemp Leave In Conditioner, my instantly softened, and the shine was unbelievable. (Note: these henna formulas with added synthetic pigments should be avoided by people with relaxers, according to Audrey David-Sivasothy, author of The Science of Black Hair.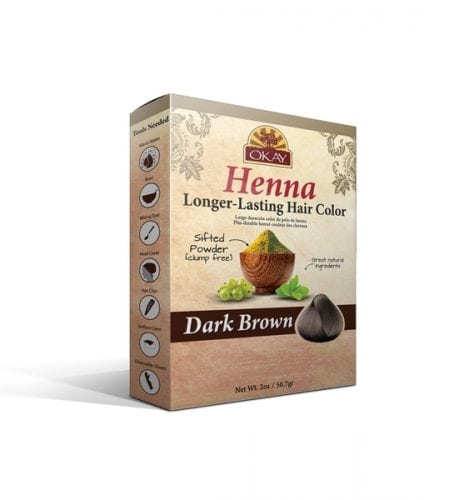 I asked the owners of OKAY in an informal interview about how often they recommend reapplying the henna hair color, and they suggested once a month. The effects of henna are cumulative, so the more you use it, the more effect. However, some say that too much application in too short a time can make the hair too hard and actually cause breakage.
My concern over the SLS and barium peroxide motivated me to do a bit more digging to see what other non-red henna options available. Surya Brazil has an entire line of henna colors with no such concerning ingredients, and the henna come pre-mixed and in a bottle with an applicator.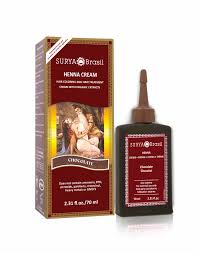 There was a lot less mess, and my hair feel both soft and strong once I rinsed out the treatment. The color deposit was equally impressive. This was definitely a winner.
(Note: I've later discovered OKAY has another line of semi-permanent henna products without SLS and barium peroxide. Check them out here.)
Have you tried henna? What are your favorite product lines?
Follow Christelyn on Instagram and Twitter, and subscribe to our You Tube channel. And if you want to be a little more serious about this online dating thing, InterracialDatingCentral is the official dating site for this blog.