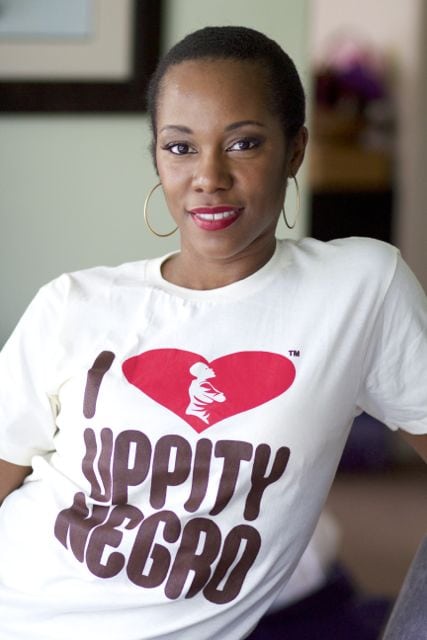 The creator of this t-shirt, Andrea Carter, called me an 'uppity negro' and I consider it one of the best compliments I've ever received. You see, my 'uppity negro' status is shared amongst such historical giants as Frederick Douglass, Harriet Tubman, W.E.B. DuBois, Ida B. Wells, Sojourner Truth, and other folks who refuse to accept black people as inferior. While jarring, Uppity Negro is not a fashion line, it is a statement that recognizes the rich legacy of black rebels and attempts to awaken the rebel in all of us while beginning a dialogue within our communities, says Carter.
I loved this so much Ibought one immediately.
You might be an Uppity Negro if you are…
A fair, just and loyal person

Historically, a black person who had been reprimanded or persecuted for voicing his/her dissatisfaction with or rejection of the sub-standard treatment of himself or other black people

A black person who holds other fully accountable for the action and demand adequate treatment from everyone including family members

A black person who was never or is no longer willing to rearrange himself or conform her behaviors simply to ensure the comfort of white people

A black person who requires and demands respect, fair treatment and regard

A black person who is committed to reversing the crimes of self-refusal, self-denial, and self-hatred that are endemic to the black community and detrimental to the black psyche

One who is not in his/her place; furthermore, and UPPITY NEGRO is one who has no concept of "place" definable by factors such as race or class. An UPPITY NEGRO'S place is wherever he/she chooses it to be.
I'd say we here at BB&W are a den of UPPITY NEGROS, yes?
So what is Uppity Negro NOT about? UN is not about racism or being anti-white. "Uppity Negro is not about hating anyone. On the contrary, it is a movement focusing on self-love and self-empowerment. Uppity Negro stresses to those left on the outskirts wealth, opportunity, or power that self-worth is found not in what you have but in who you are, what you do, and what you give back to your community.
UPPITY NEGROES, UNITE!!