Earlier this month I took my annual trek to the Mecca of all natural products that are fit to buy at the Natural Products Expo in Anaheim, California. They showcase all the products from my favorite natural lines, like Mineral Fusion, Shea Moisture, Gabriel Cosmetics, and now, 100% Pure.
I've been raving about this product line for a while now, and for good reason. All the ingredients, I MEAN ALL, are natural, gentle, and chemical free. This is important for me as a black woman, because such chemicals can have an adverse effect on our hormones, and even contribute to obesity. Sisters, it's time we really scrutinize what we're putting in our bodies.
There's several stand-outs I discovered at the 100% Pure exhibitor both, and I'll be sharing those in a video in the next few days, but I had to just take a second to rave about their Burdock and Neem Healthy Scalp Shampoo and Conditioner. Frankly, my scalp is loving it, and from all the reviews, there's tons of others who love it too. If you have dandruff, itchy scalp, or eczema, this might be the magic bullet for you.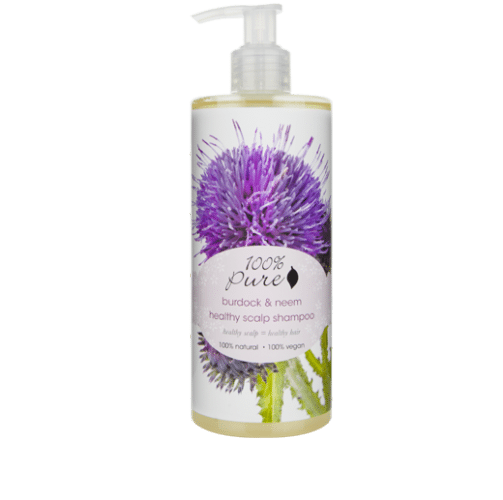 Burdock and Neem Shampoo: Surprisingly, this sulfate-free shampoo gives an amazing lather and cleans without stripping. Leave it on a minute or two and feel the nice little tingle. The moisture in your locks will feel luxurious, and you can probably attribute that to the fact that the first ingredient isn't water, but aloe vera leaf juice. My hair felt so soft I think I could have skipped the conditioner if I was in a pinch. Take a look at the top-shelf ingredients. This company does NOT play around.

Ingredients:
Aloe Barbadensis (Organic Aloe) Leaf Juice*, Rosa Centifolia Flower Water (Organic Rose Hydrosol)*, Sodium Cocoate (Saponified Coconut) Oil, Vegetarian Glycerin, Extracts of Melia Azadirachta (Neem), Arctium Lappa (Burdock) Root and Fucus Vesiculosus (Kelp), Vegetal Cellulose, Tocopherol (Vitamin E), Panthenol, Extracts of Camellia Sinensis (Organic Green Tea) Leaf*, Urtica Dioica (Nettle), Rosmarinus Officinalis (Rosemary) Leaf and Calendula Officinalis (Calendula) Flower, Cocos Nucifera (Virgin Coconut) Oil, Mentha Piperita (Peppermint) Leaf Extract, Salt (French Sea Salt), Extracts of Origanum Vulgare (Oregano) Leaf, Thymus Vulgaris (Thyme) Flower/ Leaf and Lonicera Caprifolium (Japanese Honeysuckle), Eucalyptus Globulus (Eucalyptus) Leaf Essential Oil, Melaleuca Alternifolia (Tea Tree) Leaf Essential Oil * Certified Organic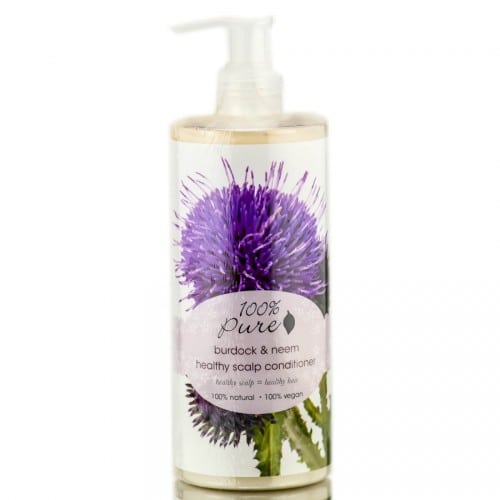 Burdock and Neem Conditioner: When I first applied this conditioner, I first thought it was going to be too thin. But I worked it through from root to tip while I was in the shower and let it sit for about three minutes. What a difference those minutes made! My hair was so moisturized that my hair began to corkscrew even before I put in any oils, creams or leave ins.  Detangling was a breeze and my shedding was minimal.
Ingredients:
Aloe Barbadensis (Organic Aloe) Leaf Juice*, Rosa Centifolia Flower Water (Organic Rose Hydrosol)*, Sodium Cocoate (Saponified Coconut) Oil, Vegetarian Glycerin, Extracts of Melia Azadirachta (Neem), Arctium Lappa (Burdock) Root and Fucus Vesiculosus (Kelp), Vegetal Cellulose, Tocopherol (Vitamin E), Panthenol, Extracts of Camellia Sinensis (Organic Green Tea) Leaf*, Urtica Dioica (Nettle), Rosmarinus Officinalis (Rosemary) Leaf and Calendula Officinalis (Calendula) Flower, Cocos Nucifera (Virgin Coconut) Oil, Mentha Piperita (Peppermint) Leaf Extract, Salt (French Sea Salt), Extracts of Origanum Vulgare (Oregano) Leaf, Thymus Vulgaris (Thyme) Flower/ Leaf and Lonicera Caprifolium (Japanese Honeysuckle), Eucalyptus Globulus (Eucalyptus) Leaf Essential Oil, Melaleuca Alternifolia (Tea Tree) Leaf Essential Oil