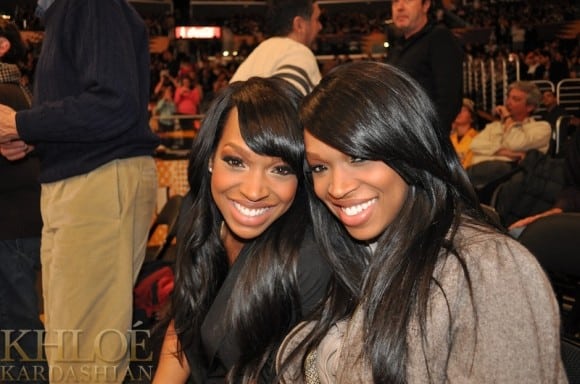 Malika and Khadijah Haqq
Do you know anything about the Afro Iranian, Malika and Khadijah Haqq twins?
For me, all the media buzz about Kim Kardashian's pregnancy led me to thinking about the Kardashian sisters and their circles. Then I remembered the beautiful black twin actresses Malika and Khadijah Haqq. If their last name Haqq didn't get you thinking about their origins, then maybe you thought they were just rich, pretty black girls who grew up with the Kardashians.  
From what I understand, they appeared on Khloe's reality show. I have rarely watched the show and most of my knowledge of it stems from media reports. Well, it turns out that Malika and Khadijah Haqq are AfroIranian twins. They are not part of a biracial union. These young women are 100% Iranian or Persian by blood if you will. But being born in America, they are actually Americans. The Black Iranian family has been living in America ever since they emigrated.
The Afro Iranian, Malika and Khadijah Haqq twins have a strong, long-term relationship with the Kardashian family, and Khloé in particular. In the past, they've worked for, and with, the celebrity maven, including their reality show Dash Dolls which ran for one season on the E! Network in 2015.
Sometimes it's a little tricky finding reliable information on the very-public Haqqs, especially with the online rumor mill is chugging along. So we've collected some verifiable details for your perusal.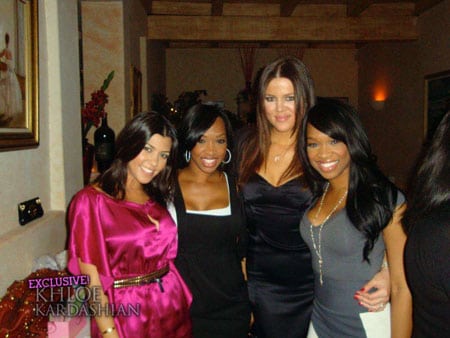 Malika and Khadija Haqq with Kourtney & Khloe Kardashian   
Who is Khadija and Malika Haqq's Parents?
Khadija and Malika Haqq parents are immigrants from Khuzestan, Iran.  Most Afro-Iranians are Iranians of Sub-Saharan African descent. They are found mainly in the Iranian cities of Khuzestan, Sistan, Hormozagan, and Baluchestan. According to research done by Dash Harris and James Daniel Lopez, the Indian Ocean slave trade was the portal through which ancestors of most present-day Afro-Iranians arrived. Arabs captured and sold enslaved people to the Persian Gulf, Egypt, Arabia, the Far East, the Indian Ocean islands, Ethiopia and Somalia.
A documentary by Dr. Behnaz Mirzai entitled Afro-Iranian Lives, provides fantastically researched details of the Afro-Iranian experience.  Dr. Mirzai, also Afro-Iranian, immigrated to Canada in 1997 and began her research of Afro-Iranian History and culture. The trailer was impressive. Afro-Iranians have been a neglected group due to racism and the same Aryan principles held by folks the world over. Los Angeles-born Afro-Iranian, Beeta Bahoolizadeh's research deals with constructions of race and the transition from subject to citizen during the late Qajar period, particularly concerning the legacy of slavery and racism in Iran. She penned an in-depth article complete with pictures and videos in June 2012.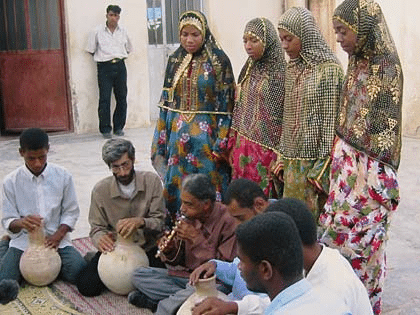 It certainly makes for an interesting read. Back to Malika and Khadijah Haqq, their backgrounds qualifies them for consideration on Bravo Channel's reality hit "Shah's of Sunset.  I wonder why we don't see them there, not that I watch it anyways.
Malika and Khadijah bio
A lot has been said about these pretty Afroiranian twins. We have seen some ideas on how afro Iranians likely came to be and just what being an afro Iranian means. I think I should now go into the very details of the lives of these pretty ladies. So let's start with who these amazing black Iranian twins are.
Who is Khadijah Haqq?
Khadijah Haqq is an Afro-Iranian actress, reality TV star and model. She was born in Los Angeles on March 10, 1983.
Khadijah's parents had relocated from Khuzestan Province, Iran, to Los Angeles, California, with her and her twin sister, Malika. She also has a brother, Jamal.
In case you're wondering, how old is Malika and Khadijah?
The afro-Iranian twins are 35 years old. As an actress, some of her many TV and film roles include Entourage, Happy Feet, and Sky High. However, the black Iranian's major claim to fame is her decades-old relationship with a woman that's much more famous; someone who says she trusts Khadijah with 'every single fiber of her being'.
Khadijah and Khloe Kardashian, the reality TV megastar, have been close friends since their teenage years. They first became acquainted when Malika, Khadijah's twin sister began to date a male best friend of Khloe's.
Subsequently, the twin sisters landed roles in the 2014 reality show Dash Dolls, about the team running a Hollywood boutique owned by the Kardashians.
The first episode of the show saw Khadijah and Malika discussing whether to revitalize their modeling careers by posing nude for Playboy.
Before that, they'd appeared on Keeping Up with The Kardashians and the short-lived TV show Khloe & Lamar, about Khloe's life with her ex-husband, former basketball star Lamar Odom.
Who is Malika Haqq?
Malika Haqq's earliest record appearing on screen was in 2004, however, her twin, Khadijah, first appeared as early as 1991 in a movie as an extra, although Khadijah's next role was after a 12-year long break. The Malika and Khadijah twin sisters will be reprising their roles in the sequel to the 2006 film ATL, with rumors of an upcoming release date brewing.
Malika has little to no relationship with her father.
She made a remark in 2011 that, "I don't see my father at all. When I was very little I did, but not since."
The twins also have older twin sisters, but one of them tragically passed away at the tender young age of 18. The Afro-Iranian twins also have a brother, named Jamal.
In 2018, Malika briefly dated B-grade celebrity, Ronnie Ortiz-Magro, best known for starring in Jersey Shore.
Depending on who you ask, the rumors were that their relationship crashed very fast, and it didn't really end on good terms.
Malika had also previously dated a rapper, Chinx Drugz, who was shot dead in May 2015 in a drive-by shooting. The Haqq twins received a fair amount of criticism when their show, Dash Dolls, was still on air. The show had featured video footage of the murdered rapper completely out of context.
For those who have enjoyed watching her act in various movies with her sister Khadijah, movies such as ATL, School for Scoundrels, and Sky High, it takes a little getting used to, seeing Malika on the big screen without her equally stunning identical twin. However, as the years went by, and the sisters mature and begin fulfilling their individual destinies, watching Malika branch out on her own is one of the many changes fans can expect from her. Both in her professional and personal life.
What is Malika Haqq and Khadijah Haqq's net worth?
Malika Haqq's Net Worth in 2018 is $1 million while Khadijah Haqq's Net worth is $1.4 million.
Who is Khadijah Haqq married to?
Khadijah is certainly no longer on the market as she has been happily married since 2010 to Bobby McCray, former New Orleans Saints defensive-end. Now, she goes by the name Khadijah Haqq McCray.
The beautiful couple has two children: Christian McCray is 7 and Celine McCray is 4. Khadijah Haqq husband has a 14-year-old son, Bobby McCray III, and she is a loving stepmom to him.
McCray's former teammate on the Saints, Reggie Bush, famously dated Kim Kardashian for three years in all. It seems like they all like to move in the same circles!
Sources:
The Afro-Iranian Community: Beyond Haji Firuz Blackface, the Slave Trade, & Bandari Music