Chicken and Okra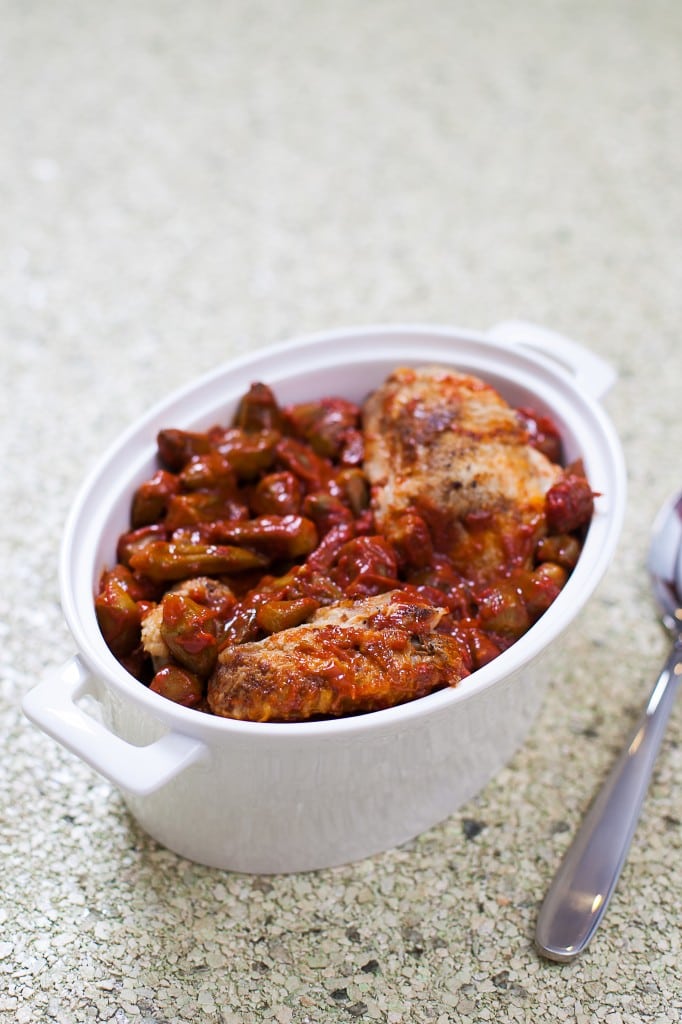 Serves 8
Ingredients
1 whole organic chicken, cut into 8 pieces
1 teaspoon paprika
1 teaspoon salt
1 teaspoon pepper
1 teaspoon garlic powder
2 teaspoons cinnamon, separated
1 tablespoon oil
4 tablespoons water
1–2 packages baby okra*
1 small can tomato paste (6 oz.)
Directions
Wash and clean the chicken. Place chicken pieces at the bottom of a small roaster. In a small bowl, combine the spices and oil. Brush the spice mixture around the piece of chicken. Add 4 tablespoons of water to the roaster. Cover and bake for 350 for 45 minutes. Take the roaster out of the oven and place the chicken pieces on a glass plate. Add in 1–2 packages of baby okra, fresh or frozen, into the chicken juices. Mix in 1 small can of tomato paste. Add the chicken back to the roaster and embed the pieces within the okra. Bake for 1 hour at 350° F.
*You can also substitute the okra with Yukon potatoes, cubed, which would count towards the starch portion of your plate. The recipe contains meat.
Per serving: Calories 144; Fat 4.7 g (Saturated 1.0 g); Cholesterol 63.4 mg; Sodium 355.9 mg; Carbohydrate 2.7 g; Fiber 1.5 g; Protein 21.7 g
Recipe courtesy of "Living a Real Life with Real Food: How to Get Healthy, Lose Weight, and Stay Energized—the Kosher Way"
About the book:
When navigating the world of health and wellness, we desperately seek nutrition advice from newspapers, magazines, our "know-it-all" neighbor, our grandmothers' old wives' tales, the muscular guy at the gym, or "expert" health-care professionals. With good intentions to become healthier, we find ourselves confused by the conflicting messages that arise from mantras to "eat this, not that."

These complicated trends leave us at a loss of what to eat to become or stay healthy and derail our nutritious path. During the journey toward better health, the simple enjoyment of real food gets lost to the "cutting and pasting" of fad diets, such as the HCG diet and buzzwords like "superfood."

In Living a Real Life with Real Food, registered dietician and certified nutritionist Beth Warren writes with a kosher perspective and relies on science and her clients' experiences to show that the best way to lose weight, build strength, and help fight obesity-related diseases is to eat the natural, organic, whole foods that people have been eating for centuries—before fad diets and America's food system got in the way.

The advice, recipes, and meal plans presented in this book will help the average reader attain a healthier and more energetic lifestyle regardless of how familiar they are with kosher, organic, and whole foods before they begin reading.