Last night's SWIRLING event in Brooklyn was by far the largest we've had so far. My agent says that there were about 160 people there, so woo hoo!
It was my first time outside the haven of Manhattan, and I have to say I loved it. It felt more…authentic for me. Of course the absolute highlight was seeing all my BB&W peeps–especially Brenda55 and Sirloin, Karla and her hubster, Carlea (the makers of my awesome SWIRLING jewerly, accompanied by her hubster), Ana Cedeno, Vintage Narsissa, Lormarie, who was so sweet to let me hitch a ride with her) and all the other fans and regulars who came to support me. Some of you travelled far and wide, and I'll love you always for that.
The entertainment format was a panel discussion about interracial relationships, with Marlon Rice of Good Brother Productions, Abiola Abrams (love and lifestyle diva), Alex Barnett (comedian) and Ron Worthy, founder of BlackPeopleMeet.com.
With all the black guys in the room, I was a little nervous about how the "Swirling" message would be received, because frankly, the black blogosphere can skew your perception of reality if you let it. Turns out my worry was completely unfounded, because Ron Worthy, Sanford educated and married to a beautiful black woman, admitted that for the life of him, he couldn't pick out any of his African American male alumni brothers who were married to black women, and openly advocated for black women to pursue ALL their relationship options. I about swallowed my tongue, because it was the first black man, married to a black woman (besides Ralph Richard Banks) who was so candid about admitting that "Yes, Virginia, we are really seeing what we're seeing."
The event organizer, Marlon Rice, event organizer, told me he read the book from cover to cover, and later shared this note with me:
"Not all of us can do great things, but we can do small things with great love." – Mother Teresa What you are doing isn't curing cancer or solving world crisis. It is small in comparison. However it is quite evident that your commitment to empowering young women by sharing your experience and perspective is being done with great love. Thank you for your service to our communities through your work. It's needed, and it's appreciated. All I ask for is two free tickets when Swirling the Movie comes out!"
THEN, one guy in the audience bought the book for a friend who thought she might need to read it: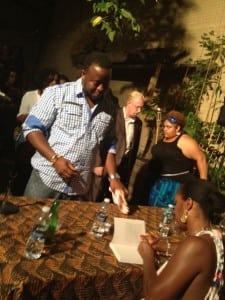 The chief-honcho at Madame Noire magazine (a black man) sent out a camera crew to cover the event: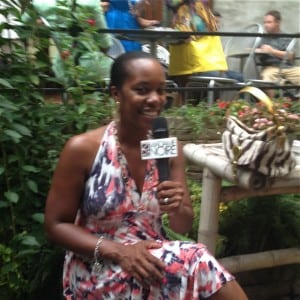 And here's a biggie: Senator Kevin Parker (!!!) made an appearance and not only bought a book, he asked for my autograph and a photo with me. I was beyond honored.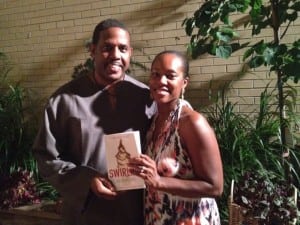 This, and a dozen other little things to show their suppport, concern, and empathy for their sisters, I wanted to just take a moment to remind myself (and you!) that, in our quest for relationship equality, we do indeed have allies. All those black men, successful in their own right (all of them married or about to be married to other black women) felt absolutely no threat by the idea of black women finding love in whatever package it comes in.
And now for your viewing pleasure…