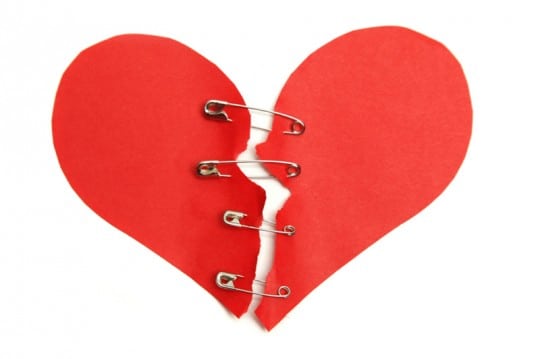 Leona's Love Quest 
With Every End Comes a New Beginning
The end of the spring semester is always bittersweet for me. Not only do I have to say good-bye to my best senior students but the end of the school year is always jam-packed with an insane amount of activity.  I've spent ten out of the last fourteen days sitting in a dark theater for hours on end checking for uneven hems, failed quick changes, and other various costume catastrophes that need to be addressed before opening night. It's not at all unusual that an entire set of dance costumes get vetoed by the artistic director during dress rehearsal and we have to start from scratch with just a few days (or mere hours) before curtain.
Despite my ridiculous production schedule, I was able to spend a weekend in New York as a volunteer at Matthew Hussey's Live Get the Guy Tour. Considering all the lip service I've been handing out, I was feeling a little guilty about not making this area of my life more of a priority once I heard all his advice again. After all, this was this very same event I attended last year in Philadelphia that persuaded me to apply for his retreat.  Lately I've been spending far more time posting content on my Facebook page than meeting new men. Especially now that spring has sprung, it's time for me to start walking the talk! For now, I thought I'd share with you an excerpt from my book still in progress. I intend to finish a complete first draft by the end of this summer regardless of whether I "get the guy" or not because sometimes that's just how the story ends. Besides, I'll still have lots of time for edits☺.
Some of you may remember the following from when I reminisced about some of my past relationships so I could analyze where things went wrong. It was a hard chapter of my life to revisit, but now it feels good to see how far I've come and just how much I've learned.
Excerpt from Chapter 3: Those Who Fail to Remember the Past . . . Probably Have a Damn Good Reason for it.
I reconnected with Ethan, a former student of mine, soon after I moved to Virginia. His All-American, boyish, good looks and lean, muscular body had won the admiration of a number of female students and had me envisioning scenes from The Graduate. Ethan was so engrossed with his burgeoning career as an Indie singer-songwriter if it wasn't for his incredibly good-natured persona and abundancy of talent he might never have received his diploma. I kept in touch with Ethan after graduation as I did with many of my students. It was difficult to avoid fostering informal teacher-student relationships after the numerous hours we put in producing theater. Living in a small town only exacerbated time spent in social situations that most professors would find unacceptable. Many of my students felt more like friends, nieces or nephews. Ethan was one of my favorites.
After graduation Ethan immediately began touring and recording his music. He would fall off the radar for months at a time until he released a new album. Then I was sure to receive a flurry of text messages and emails ensuring that I was still part of his fan club. We had played this cat and mouse game for years until our standard friendly conversation took a turn down a road we had previously left untraveled.
"I miss you, Leona. We've let far too much time go by without talking or seeing each other. How's it going? How's the job?" He said sounding relatively sincere.
"I miss you too Ethan. I've been good although I'm not sure how much longer I'm going to last here. I'm already sick of these mountains and they keep assigning me classes I am hardly qualified to teach. I never thought I'd actually miss the gentility of the Deep South. These students aren't nearly as much fun or half as polite."
"Aww, man. I'm sorry to hear that. Well you know you were always my favorite teacher. Seriously, I had really big a crush on you. If we're both still single by the time I turn 40, will you marry me?"
"By the time you turn 40?" I mused. "I'll be an old lady by then. How about we do this a bit sooner, like tomorrow?"
"Don't test me, Leona. I just might say yes."
"Sure you would Ethan. It must be hard to deal with so many young girls throwing themselves at you all the time."
"Whatever. You're the one that I want and the next time I drive through your area I'm going to stop and see you, so you'd better get ready."
"OK, Ethan. When you're ready for a grown woman, just let me know." I said mockingly.
"Talk to you soon."
"Yeah, I'll talk to you soon."
Even though I knew I shouldn't take him seriously, I still somehow felt like I had just won the lottery. I never imagined I could attract someone like Ethan. There was a twelve year age difference between us and although he wasn't yet famous, he definitely had a sizable fan base among a certain crowd. All those young white girls would lose their addled minds if they knew that he was interested in someone like me. I fantasized about taking the summer off to be his road dog. I might have to lose some weight and get some hair weave if I was going to look like a proper groupie. Maybe I could quit my job and work as his stylist. . .
He only added fuel to the fire when over the next few days he started sending me random text messages. At first they were innocent enough like "Hey stranger, how's it going?" Then next time, "Hi babe, I was just thinking of you, and you know I have a dirty mind."
OK. If that's how he wanted it, I was willing to play along.
"You know that's the way I like them, babe." Send.
Response: "I like it when you call me babe."
"I like that you like it when I call you babe." Send.
Response: "Ur ridiculous☺."
I had created a monster. He started texting me in the middle of the night and his messages became increasingly more erotic and explicit. Damn! He was really good at sexting! My imagination was running wild with anticipation of his arrival and his tour wouldn't be taking him anywhere near where I lived for several months. After living through yet another disastrous date at a day-long concert festival, I decided the next time Ethan texted me I was all in. Of course then for no apparent reason, he stopped contacting me altogether. After about a week had gone by, I sent him a simple "hello" text to which I received no reply. I kept wondering if I had said or done something to turn him away. I couldn't stop thinking about him. It drove me nuts.
During that same week two of my girlfriends from my happy hour crowd got engaged. I threw myself a pity party of such epic proportions I should hired a DJ to play sad love songs and had it catered by Ben and Jerry's.
My heart jumped when I finally received his text one day while I was working in my office. I was all at once relieved, excited, angry and annoyed. If he was just going to pretend like he hadn't fallen off the grid for several weeks than I was going to pretend like I didn't even care.
Incoming : "Hey Stranger, I miss you. My tour schedule has been nuts. I am on the road for 236 days of the year."
"Geez Ethan, that's crazy. I guess that's life on the road." Then foolishly I decided to do a little fishing while at the same time indicating the nonchalance of my romantic interest. "Don't you get lonely? I mean, it must be impossible to keep a girlfriend with that kind of lifestyle." Send.
Response: "A girlfriend? Oh. I don't think I ever want to have a girlfriend again," he texted back to me seemingly without a second thought. "It's too complicated for me to explain it all by text, but I'm pretty much of a loner by nature. I don't think I'm emotionally mature enough to handle a relationship."
What. The.  Absolute. Fuck? His words hit me like a sucker punch to the gut. I didn't even know how to respond. The fact that he had never asked if I had wanted to be his girlfriend was not keeping me from feeling totally crushed and misled. I had created an entire rock-star romantic fantasy life for us. He was supposed to save me from the monotony of grading papers, endless meetings, and costumes designed for overweight, over-privileged students that shook and writhed on the floor in the name of dancing.
I had gotten too carried away. For him, the flirting and sexting was simply a fun and easy diversion, a way to play at intimacy without the risk of getting hurt.  For me, the attention that Ethan had shown made me feel special, alive, and important. His attraction proved I was both worthy and capable of obtaining love that was extraordinary and profound. It was just the kind of validation I'd been so desperately seeking.
Years later after several more album releases, Ethan called again. By that time I had moved to Baltimore. Once our sexting sessions resumed, I was right back to being putty in his hands. I wanted him so much I thought maybe I had one more chance at redemption. As the date of his arrival grew close he began backpedaling right away. He refused to meet me at my apartment because he didn't want to ruin our friendship, whatever he believed that friendship to be. My soul was already so heavy with rejection and degradation and life just kept piling it on. I didn't understand why it always had to end up like this. What was it that made me so untouchable? Why did every guy I got close to want to leave?
I agreed to meet him at a diner late the next evening. He entertained me for a couple of hour with numerous witty stories of life on the road, but he barely made eye-contact with me for the entire night. When it was time for us to part, we kissed for the very first time. He tasted sweet like strawberries and I didn't want to let him go. He looked down at me smiled as if he were guilty of divulging a secret he'd been keeping for a very long time. Then he got in his car and drove away.
And that was that.