Icon, pioneer, legendary actress and Pink Pill muse Diahann Carroll passed away today at the age of 84, and the world simply will not be the same without her. Diahann's unmatched beauty and flair was especially monumental in a time where black women in the arts were not prominently featured, and not only did she flourish, but she excelled at it, and in doing so, she blazed a path for black actresses of today. There will never be another like her, but I'm glad she shared her talent with the world and that we all got to partake in her talents. Here are just a few things we can all learn from Diahann's life:
Carry yourself like royalty
Can you name a single time where Diahann Carroll looked anything but perfect? Like…ever? Her style, poise and elegance is unmatched. It speaks for itself.

Create a legacy
Claudine, Julia, Dynasty, and A Different World, were all before my time, but I've seen them all and recognize them for the impact they had, and continue to have today. Without Diahann as the pioneer, the likes of current starlets like Kerry Washington and Viola Davis and even up and coming actresses like the entire female cast of Dear White People, may not have been able to star in their own shows today. That is such a powerful legacy to leave behind.
Cultivate your femininity and style
Diahann was the epitome of class and she didn't need pounds of makeup or plastic surgery to be feminine. As I was writing this blog I was looking at her makeup through the years, and my goodness, she is immaculate! There's no over the top highlight or 20 different blushes and contouring, her go-to face was sophisticated and enhanced the beauty she possessed naturally.
Classy shade is the best shade
Even though Dominique Devereaux was just a character, she needed no f-bombs and wig snatches and crass exchanges to handle business, a talent and skill that takes time to craft and hone, but when executed well, can devastate your opponent.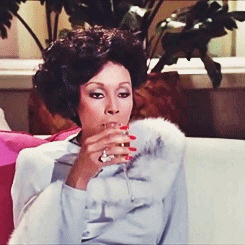 If a lane doesn't exist for you, make one yourself
Diahann broke barriers in the 60s/70s playing Julia, a widowed nurse and mother of one. This role was monumental in many ways – it showed something very rarely televised in that era, the black middle class, and, it was the first ever sitcom starring a black woman. Diahann showed women across generations that you don't have to portray the maid or the mammy or scrape by in the ghetto to find success in Hollywood, and that hard work, in spite of great difficulty, can pay off.
Get your cancer screenings
Cancer, the plague that it is, claimed this legendary queen's life, as it has many others. It's never a bad time to invest in your health, and if you have a family history of cancer, or notice something has changed, like a lump in your breast or blood in your bowel movements, please see a doctor as soon as possible.
Diahann Carroll has firmly established herself as an icon for the generations. Her passing is truly a great loss for the arts. And though there won't be another like her, we can use the positive examples she set and apply them to our own lives.
What is your favorite Diahann Carroll role or style moment? Let's talk about it in the comments.