Last Thursday, Miriam Carey, a 34-year-old mother of one, was killed by police in D.C. after she rammed her car into barricades and led police on a high speed chase. Ms. Carey's one-year-old daughter was in the car with her mother during the incident.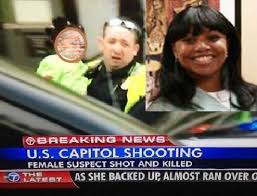 The questions some people are now asking are these: Did Ms. Carey have to be shot and killed by police officers in order to bring the incident to an end? Was proper protocol followed by the police? And, why didn't the police consider that Ms. Carey may have been mentally ill before shooting her?
Carey was a college graduate who owned her own business and worked as a dental hygienist in Stamford, Connecticut. She had a history of mental illness preceding the incident in D.C.
Carey had received a diagnosis of postpartum depression with psychosis, her sister Amy Carey-Jones said in a Friday interview on "Anderson Cooper 360°," and had been treated with counseling and medication, but was reducing her use of medication under a doctor's supervision. Carey-Jones said her sister "didn't appear to be unstable."

"We will never know what Miriam was thinking in those last hours before she died," her sister told Cooper. "We can only speculate, and our real concern is why and were things done properly. Was there some other way that she could have been helped so that it didn't end tragically?"

Rep. Michael McCaul (R-Tex.), chairman of the Homeland Security Committee, said the investigation has uncovered "a picture of a mentally disturbed woman." Carey had been treated for schizophrenia, he said, but two of her sisters disputed his characterization
Investigators who searched Carey's home after the incident found discharge papers from a 2012 mental health evaluation that listed prescriptions to treat schizophrenia and other mental disorders. Carey's boyfriend said that last December Miriam was having delusions; she apparently believed that President Barack Obama has placed her city, Stamford, under lockdown and that her home was under electronic surveillance.
At this point, no can say for sure what event precipitated Ms. Carey's drive from her home in Connecticut to D.C. But I (Jamila) think it is safe to say that mental illness almost certainly played a role in Carey's actions and the fact that her friends and family are left feeling bewildered about exactly why their loved one did what she did isn't surprising.
Megachurch Pastor Rick Warren's 27-year-old son committed suicide on April 5th, 2013. The pastor, his wife, and son had enjoyed what the Pastor describes as a beautiful day together; after they arrived home, their son shot and killed himself in "a momentary wave of despair." That's how powerful and unpredictable mental illness is–one minute the mentally ill person is fine and hasn't had suffered from a severe bout with their illness in some time, minutes later the person is so deep into despair they believe their only options are death at their own hands or some other cry for help, like driving to the front gate of the White House to confront their tormentor.
What we do know is that the police killed Ms. Carey after she had hit–intentionally or unintentionally–two police officers, struck a barricade, and fled from police after being ordered to stop. The only ray of light out of this tragedy is that Miriam's daughter was taken unharmed from the vehicle and placed in the custody of family.
______________________________________
Jamila Akil is a Community Manager at Beyond Black and White. Follow her on Twitter @jamilaakil
.