Over the years here at BB&W, many commenters have referenced the 2005 film, Neo Ned, starring Gabrielle Union, which tells the story of a Neo-Nazi who falls in love with a black woman. Recently I noticed that my local library carried the film and I was delighted to see that it also starred Jeremy Renner. Other than the Neo-Nazi angle, I had no other knowledge about the film and watched it "cold."
I'll admit, I was curious as to what kind of sane black woman could fall in love with a racist.
I assumed Union was going to play a social worker or some other kind-hearted soul who crosses paths with a man who needed saving and rescues him from the hell of hate. Yeah, this happens, but in a totally unexpected way. And the "saving" is mutual.
In the opening scene, we are introduced to a disheveled, make-up free Union, playing the role of Rachel, and an ADHD posterboy, Ned Nelson, played by Renner, just before a murder is committed. We are then given glimpses into the tragic, desolate upbringing Ned endured which drove him into Neo-Nazism and eventually brought him into placement at a mental health facility, where he meets Rachel. Surprisingly, the two have a bizarre Hitler connection, which draws Ned to Rachel, despite the fact that she's black. For those of you who have seen the film, Silver Linings Playbook starring Bradley Cooper and Jennifer Lawrence, the crazy displayed in that film ain't got nothin' on the respective crazy of Ned and Rachel.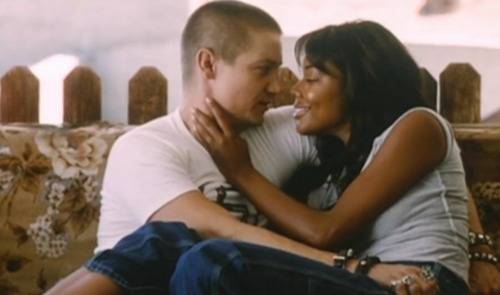 The film isn't directly about interracial romance; instead the romance provides great tension and sets up several conflicts as the plot moves forward. You keep wondering, "so… what happens when his skinhead friends come back around?" And, "um, when was the last time they took their meds?" The film more so explores whether two extremely broken individuals are capable of loving, and, if so, whether that love can exist in a place free of poor choices on an inevitable path of self-destruction.
On a side note, I really enjoyed seeing Gabrielle Union in this kind of role. She's done romantic comedies, action films and some Tyler Perry vehicles, but her characters in those films never came across as complex or challenging. In this film, she does a great job of humanizing Rachel, where an obviously very intelligent woman is coping with mental illness and winds up in a relationship with a questionable person. I'm hoping she'll do more indie work.
If you are interested in films about the human experience, then definitely place this on your Netflix or Redbox list.