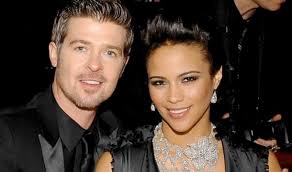 Well I guess some rumors you can believe, especially when they come on like a torrent. On the heels of Robin Thicke's success with his latest album and breakout hit, "Blurred Lines," that catapulted him back into relevance, wife Paula Patton has had enough. This from the Huffington Post…
Robin Thicke and Paula Patton are separating after nearly nine years of marriage.

"We will always love each other and be best friends, however, we have mutually decided to separate at this time," the couple said in a joint statement to People magazine Monday (Feb. 24).

The two married in June 2005 and welcomed their son, Julian, in 2010.

News of the split comes after Thicke was photographed getting close to women other than his wife. In September, a socialite claimed she kissed the "Blurred Lines" singer after meeting at a VMAs after-party at 1Oak. In January, he was seen "dirty dancing" with a woman in Paris, FishWrapper reported.
Robin Thicke, unapologetic letch, pot-smoker, etcetera, etcetera, might have thought Paula would just keep accepting being disrespected in public. Nope. Apparently not.
I know this is a big blow to Thicke's ego, who said in reports that he wanted to distinguish himself for his father, Alan Thicke, who's been married and divorced 50-11 times.