All you 'Olitz' fans out there might not ever see the fictional couple tie the knot, but drown yourself in the fantasy of this couple, who themed their entire wedding on the two characters giving us the happy ending we hope for!
Event planner, Roxanne Duncan, tried to imagine the fictional couple's fondest dreams come to life. And we think she nailed it!


Like many other fans of ABC's hit political drama, Scandal, I'm sure we've all fantasized and asked ourselves "what would Fitz and Liv's wedding be like?"
As the eagerly anticipated 4th season premiered in September, I was on a mission to bring this fantasy to life.
We borrowed some key elements from the show that would appeal to those who are true "gladiators" but also provided visual inspiration for those who aren't. 
From the gorgeous stationery design to the amazing cake, there is a lot to be inspired by.
The focus was on a particular scene and ongoing fantasy in Scandal where main characters, Olivia Pope and Fitzgerald Grant, fantasize about life after the White House in their home in Vermont. 
The shoot was designed to be an intimate affair where Presidential black tie meets rustic elegance all brought together with a warm neutral colour palette: blush & winter whites with gold & black accents. It is classic, traditional and elegant femininity with an edge, that accurately reflects the style and characters of the show but can easily translate to any newly engaged couple.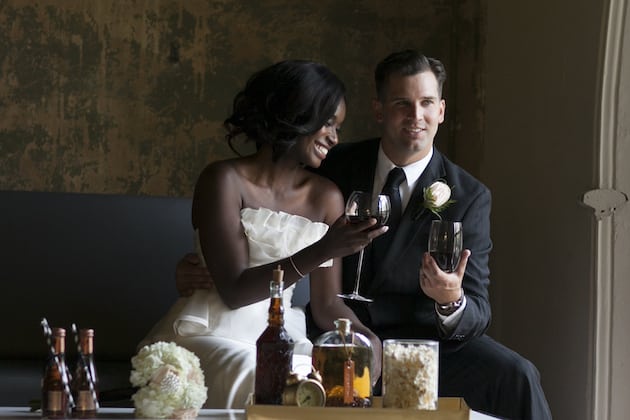 See the full story here.