As a perk for my $20 Pateon pledgers, I do a quick review of their online dating profiles spruce them up, and present them to our community. There's tons of people who just lurk, and lots of quality guys and girls just waiting for a chance to meet someone special. (Click here to become a Patreon for Beyond Black & White)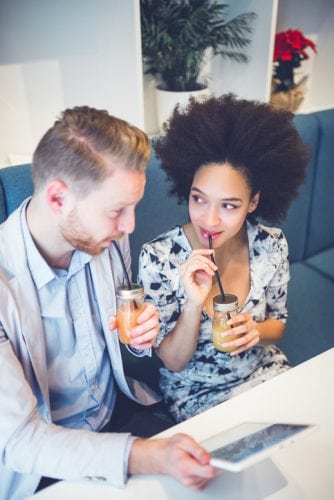 I've recently made it my mission to help black women get more attention, more dates, and more romantic connections with men online, and am working on a guide, Online Dating: Glamorously. Here's what "Sadie" wrote before I tweaked it.
Before:
"I'm a easy going, friendly, Caring, intelligent, God fearing Nigerian American women who loves life. I occasionally enjoy going to museums, movies, lunch or a night out for dinner. My family is important to me and I'm lucky to be surrounded by great people. I would like to travel more and see the world with someone special someday."
After:
"I'm a laid-back, easy kind of girl. My idea of the best day ever: strolling through a museum in Greece, watching a movie with subtitles, and eating some of my mom's Nigerian food. Have you worked hard for your success? Me too. Are you a spiritual guy who likes to let loose sometimes? Me too! Looking for someone to walk into the sunset with? Then we really should be already dating. What's taking you so long? Let's be "boring" together."
So what changed? I took out the whole "God-fearing woman" thing, and if you read this article, you know why. There's also some elements in the first profile that were so generic that frankly, "Sadie" sounded boring. I added more specific information and a few key words so that potential suitors will read about her and try to imagine themselves doing all the things her "best day ever" entails.
The fact is, many black women has plain, generic profiles that will get overlooked. You have to add the spice, and your profile is one key way to do it. The second version is short, fun, and much more specific than the first. Photos are important too, but we'll talk more about that later.
To be the first to get Online Dating: Glamorously, click here to get on our mailing list. For personal online dating consulting, email me at [email protected].
Follow Christelyn on Instagram and Twitter, and subscribe to our You Tube channel. And if you want to be a little more about this online dating thing, InterracialDatingCentral is the official dating site for this blog.