My news feed has been going crazy lately and I'm no dummy, how many times must I see "Orange is the New Black" before I caved in and watched. I know the independent television series providers are capable of producing quality shows so I had faith in the great reviews I've read so far. I didn't read any reviews, per say, rather I planted myself on my couch and hit the Netflix. And boy, oh, boy am I happy I did……..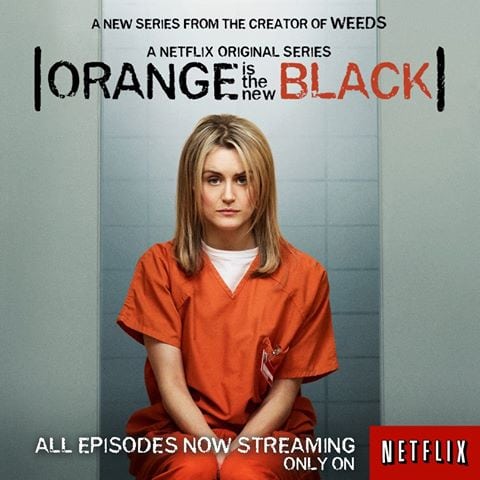 This independent series by Netflix was created by Jenji Kohan and is based on Piper Kerman's memoir Orange Is the New Black: My Year in a Women's Prison. Piper, a white upper class woman finds herself behind bars after having made some bad decisions early on in life is like able as your typical occasionally oblivious to her privilege White woman.
The shock and awe of the reality felt by Piper of being snatched out of her happy life by random circumstances from the past and placed in prison is revealed by the use of flashback scenes to fill the audience in. She soon learns how to follow directions without question and survival has more to do with one's perception than it does resources or brawn.
You'll recognize a few long time actors and actresses that have signed on to this independent series. Netflix has already renewed the series for a second season. I'm stoked though I'm sure the character's will reveal and revolve as they move their way in and out of prison. The good part is that this setting makes it the perfect place to introduce new characters as the story line develops which is always exciting as you never know what actor may show up to play what part. And prisons hold all types of people, I am curious as to what they'll do with this.
No where near as brutal and psychologically jarring as the HBO series Oz, Orange is the New Black is all about women and how our interactions and conflicts seem to stem from old hurts, insecurity and poor decision making. There are several male characters who are doing the typical male character thing among the female population. Some behave, some empathize and treat the women humane, and others take advantage of whatever little power and dominance they can get away with.
As I said, typical male behavior, which is why this show's focus on the lives of the female characters is refreshing and long over due. At what other point in time do you get to hear the inside lives of women who come from poor, dysfunctional, and abusive backgrounds?
Latina, Blacks, Whites, gay, straight, red neck, hood rat, the philosophical and the clinically insane all sit and eat and wear similar clothing. There's not many variations of privilege left to hide behind here other than one's own wits and willingness to be for or against one's fellow inmate. There is a romance, or two. Some drama and whispering, of course. There is not as much sex as you would think and plenty of great actors to enjoy.
I was pleasantly surprised to see Michelle Hurst who I immediately recognized as an actress that has held several reoccurring roles on Law and Order franchise. Her matron glare is bar none, and her cold exterior as Miss Claudette Pelage already has me intrigued due to the conflict of self preservation, consideration and stern indifference. You'll be surprised to learn exactly what led her to becoming an inmate at the fictional women's prison depicted on the show.
Kate Mulgrow who you may remember as Adm. Kathryn Janeway from the Star Trek: Voyager television series plays a major role in the prison ecosystem.
I am enjoying her portrayal of the character Galina 'Red' Reznikov, as the prison cook, "Red", it is her hand that feeds you. And as they say, these women should be mindful to not bite the hand that feeds them. Can she really be a kind hearted woman with a moody, sadistic streak? Could be and I'm interested in knowing more.
Taylor Schilling is a relatively new actress who plays the part of the original author of the book. Her work included appearing in the movie
Jason Biggs of the American Pie movie franchise is all grown up, charming and quite normal as the fiance of Piper. He's forced to have to adjust to life on the fly since Piper may or may not have been forthcoming about her past indiscretions. He's aware of them now as she'll be gone for 15 months to serve time for something she thought was done and over with. Will he stick around or crack under pressure?
We'll have to watch and see.
Natasha Lyonne, also of the American Pie fame is a constant supply of tongue and cheek humor, advice and philosophical insanity to the main characters. She does the unkempt slightly crazy look like no one else. I always love her work, I support quirky people, I guess.
Keep your eyes out for newcomer Danielle Brooks, as Tasha 'Taystee' Jefferson, who I noted went from speaking ratchet Black ebonics to spending time perusing the Odyssey in the prison library. Is she as ignorant as she pretends to be? Is the library a place of learning or learning about each other through secret notes and whispered updates?
I'm in love, literally and figuratively with the character played by Laverne Cox, an African American transgender woman who made her acting career spanned between Law and Order appearance and reality shows ( I Want to Work for Diddy).
She is a transgender activist and also the first AA trans woman to host and produce her own TV show via Transform Me which aired on VH1. As a LGBT woman myself, I was so pleased to see the very beautiful and normal Sophia as part of the regular show line.  As a gender rights supporter, I'm aware of just the impact her being on the show will have on those who are unfamiliar with those who have transitioned gender. Miss Cox is a gorgeous woman and while watching her it becomes quite easy to forget that she was once a male.
Sophia Burset (Cox) left a wife and child at home upon finding herself in a woman's prison serving time. I already see a very complicated set of events with this character. I'm so glad the producer's of the show gave her one of the most established and mature story lines. There is the basic story of marriage, disappointment and loyalty to one's spouse, there is also the conversation about Black women and what they must endure in their marriages and how supporting certain people's decisions will leave you worse off then they are.
I'm not yet sure if the crime will be tied into the character's sex change operations. I"m hoping the writers avoid the simplistic association between bad moral decisions and homosexuality and instead focus on the difficulty of maneuvering  a life with a person who is willing to cut corners to save face.
I found insight.
I nodded my head.
I recognized much of what bought these women to their current location. As a criminal justice advocate, I'm sure the general public would be surprised to find out how exploitative, convoluted and abusive prison life can be, whether you contributed to the crime that landed you there or not.
Not all prisoner's are created equal. Pay special attention to the conversation between Piper and the warden that happens early on in the series. He's not the only one confused about who is 'innocent' versus who must be 'guilty'.
The show airs on Netflix and can be watched online via stream at your convenience. I'm liking this trend of new shows.
There is so much to explore in Orange is the New Black.
I'll be waiting……….will you? Have you caught some episodes. And would you like to make a OITNB thread? Let a sistah know!!