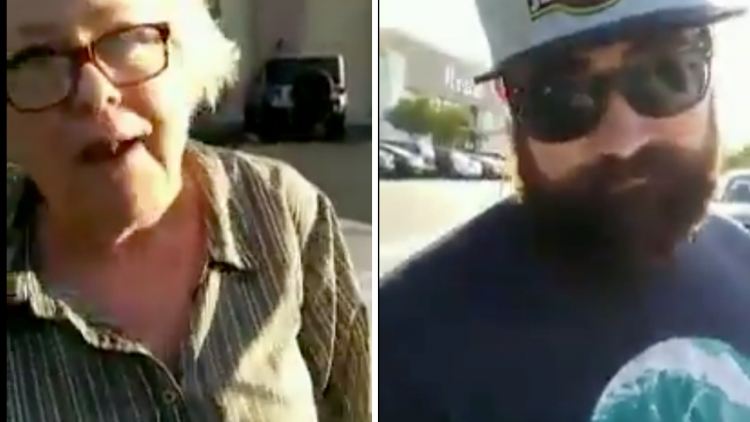 A video recently posted on Twitter showed a video of an outraged mother filming an elderly woman (aka Parking Lot Barbara) who was calling the police and insisting that the child was "in pain" because the sun was shining on her face while sleeping in an air-conditioned car with the mother present.
Within the video, you see the elderly woman being rude and condescending to the mother and spitefully informs her that she's calling the police because the mother rightfully told her to mind her own business.
Despite the child's mother obviously, present and the baby sleeping like itself, she persists with the narrative that the child is in distress to the police.
That is until the mother's white husband shows up.
While she was previously snubbing the mother and waving her off like a gnat, the father gets her full attention. When he asks what the problem is, the elderly woman stutters and sputters to come up with an excuse and even tries to suggest that SHE is the victim!
The shift in the old woman's deference to the white man is so dramatic your head will spin. This scenario of the victimizer claiming victim is dangerously common and black women need to learn how not to fall into the trap of them goading you into hysterics when it's just the two of you and then flips the script when someone in authority shows up. As soon as this person appears, the victimizer switches tac so it appears she is the victim of an out-of-control angry black woman.
In a case such as this, your voice calm and your comments stinging. Be like Omarosa–look every bit the woman as you cut your opposition down to size. When a person of authority arrives, be the FIRST to burst into tears and act confused and scared of the mean old lady. In your most feminine, distressed voice say something like, "Oh honey I'm so glad you're here! I'm so confused at this woman who insists on calling the police because I was sitting in the air-conditioned car with our baby! I just don't understand why she's behaving this way!" Then stand back and quietly watch the show. No need to flank your male companion; he's got this. Part of the perks of a patriarchal system is that wives are given masculine protection.
I understand that as a black woman, standing down may be completely foreign to you because we are so used to fighting our own battles. But keep in mind–there are a million ways to fight to win.
It's so refreshing to see all the women in our private and sacred Pink Pill space discuss these types of issues and exchange strategy when similar scenarios occur in the workplace or in social situations. It takes time to unlearn the conditioning to handle all things alone. Being cunning and shrewd all while you smile and speak softly is the ultimate feminine weapon.
Here's my commentary. Let me know what you think!
Follow Christelyn on Instagram and Twitter, and subscribe to our YouTube channel. And if you want to be a little more about this online dating thing, InterracialDatingCentral is the official dating site for this blog.